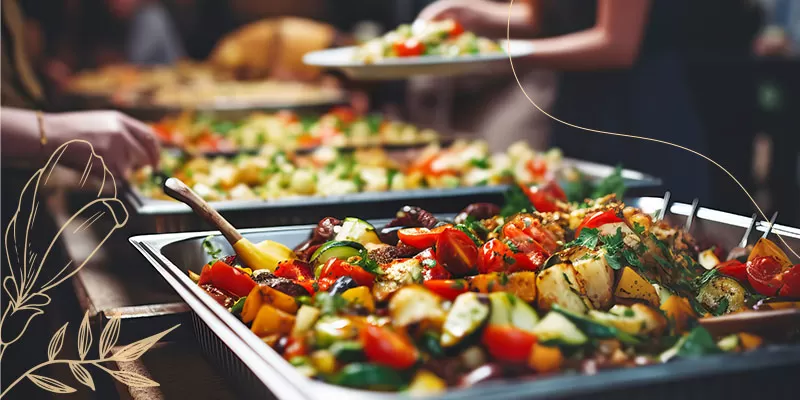 Planning a big event can understandably be very stressful. Whether it's a wedding, large corporate lunch or holiday party, we've all been there. There are the usual things to consider — like the guest list and the venue — and then there's the food. Event food should be delicious, and you'll want to consider various preferences, allergies and food restrictions.
At the same time, you don't want to go way over budget by ordering too much food or getting the most expensive choices. But never fear! You can still throw the event of the year with cheap catering options. After all, just because the meals are more affordable doesn't mean they're any less tasty. Here are some of our top ideas and tips for sticking to your catering budget for your upcoming event.
General Tips for Catering on a Budget
Before we dive into some inexpensive catering menu ideas, here are some budget-related catering tips.
1. Opt for a Buffet Style
Catering a plated dinner service is often more expensive than offering a buffet. A buffet may be the perfect solution for your event, as it can keep costs lower and allow guests to choose from a wider variety of foods. Picky eaters or those with dietary restrictions or allergies will love being able to choose exactly what they want.
Buffets also encourage your guests to interact with one another and allow you to forgo hiring servers for your event. This way, guests can help themselves to whatever amount of food they wish.
2. Choose Cheaper Alternatives
Whether hosting a black-tie wedding or a casual corporate lunch, you can offer guests delicious food without serving top-dollar filet mignon. Beef, chicken, shrimp and burgers are examples of more affordable protein options that are just as mouthwatering as an expensive steak. Serving some vegetarian options also caters to a more diverse crowd and helps keep costs low.
3. Control the Duration of the Event
Some catering businesses charge by the hour, especially if servers are included. In this case, it's best to watch the clock and consider how long the dining portion of the event will last. For example, you can save costs by trimming your four-hour corporate lunch to two hours. If you're planning a wedding, discuss your needs with your catering company to prevent paying for the time after everyone has finished eating.
4. Consider the Alcohol
Serving alcohol — such as via an open bar — can increase your catering price. If you want to offer alcohol to your guests but are looking to keep catering costs low, consider serving only wine and beer. Liquor is often much more expensive, and you'll have to find a caterer with a license to serve alcohol. Limiting alcohol to wine and beer can help you keep costs under control.
When it comes to all beverages, you might just want to supply your own. Most guests will be happy with simple soft drinks, water and assorted teas!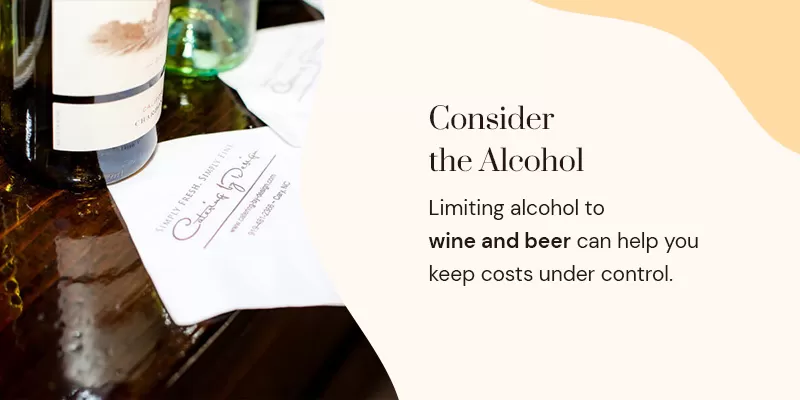 5. Consider the Time of Day
When catering to large groups, the time of day can also influence your bill. Depending on the caterer you choose, you might find that their dinnertime offerings are pricier than their daytime menus. Breakfast and lunch options are generally cheaper than dinner. Lighter fares or finger foods can also be more affordable than a full-course meal, and these snacky options are perfect for happy hour events. Most caterers also have seasonal menus, which may include more affordable in-season items.
Budget-Friendly Catering Ideas
Affordable meals can make just as much of an impression as pricier options. Here are our top recommendations for the cheapest catering options.
1. Breakfast for Dinner
Breakfast foods tend to be less expensive than dinner menu items. For instance, catering a party with a breakfast buffet, yogurt bar and fresh fruit may help you save on costs compared to a steak and shrimp plated dinner. Choosing a "breakfast for lunch" or "breakfast for dinner" theme can also be a fun way to get people to engage with your event and make it unique. A corporate gathering where everyone eats scrambled eggs and cheesy grits or a daytime wedding with waffles on the menu will keep people talking.
2. Brunch
If a full-on breakfast doesn't seem like the vibe of the event, you can compromise and save money by serving brunch. Brunch is perfect for events like bridal showers, baby showers, graduation parties, birthday parties and much more. It's also a cheaper alternative to serving dinner. As the name suggests, a typical brunch menu includes breakfast and lunch foods that your guests can enjoy and that are relatively easy to prepare. Eggs, bacon, fruit, biscuits, oatmeal, scones, sandwiches and bakery goods are just some of the options you can have at your event.
Serving brunch also creates a more casual and relaxed atmosphere. The laid-back catering menu may encourage your guests to mingle and enjoy each other's company even more.
3. Boxed Lunches
A top concern with catering for any event is food waste. It's a delicate balance: You don't want a bunch of leftovers, but you also don't want to run out of food before everyone has eaten. So, if you're hosting a large social event, avoid excess food and try catering specialty boxed lunches to keep costs low and ensure every guest gets a delicious meal. Boxed lunches are perfect for work meetings or special events where employees can enjoy their meals together and feel more productive.
This is one of the best cheap lunch catering ideas because it offers a personalization solution. Each person can choose from a limited menu or mix and match items to get exactly what they want. Usually, sides and desserts are the same for everyone, but your guests can choose from various flavorful entrees that meet their tastes and dietary restrictions. For instance, they might choose a classic turkey avocado BLT or a spinach avocado cheddar sandwich if they're vegetarian. This option removes the issues of food waste while ensuring everyone gets to choose from a handful of items.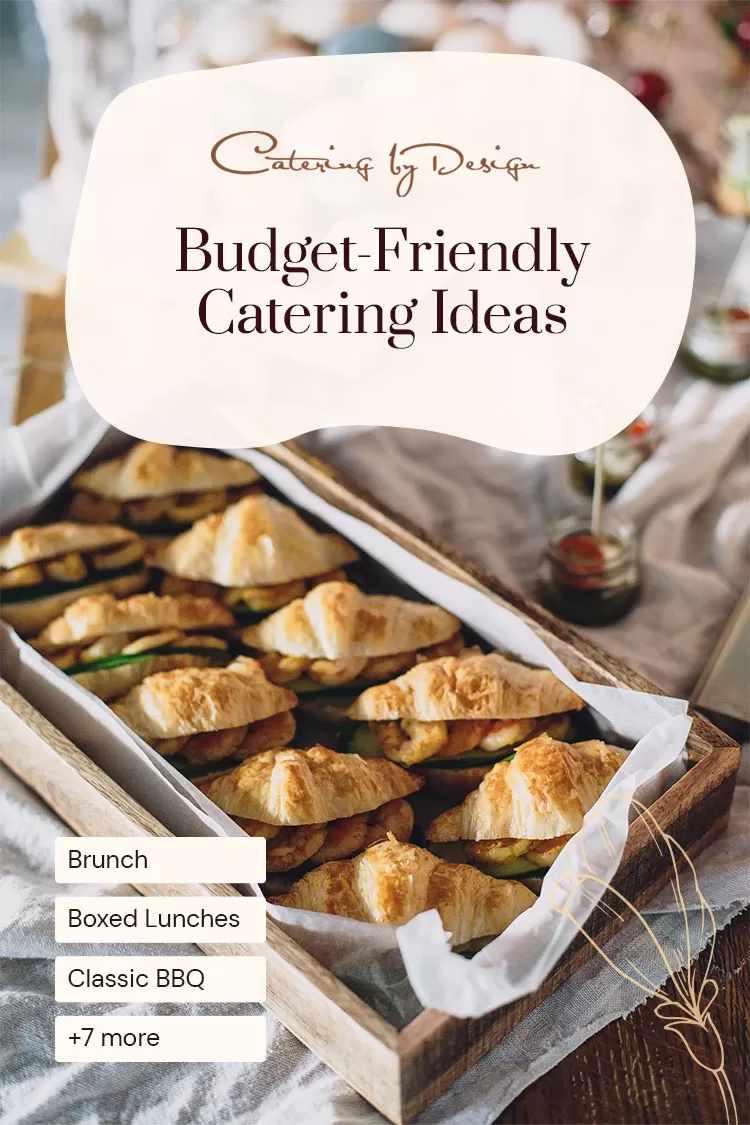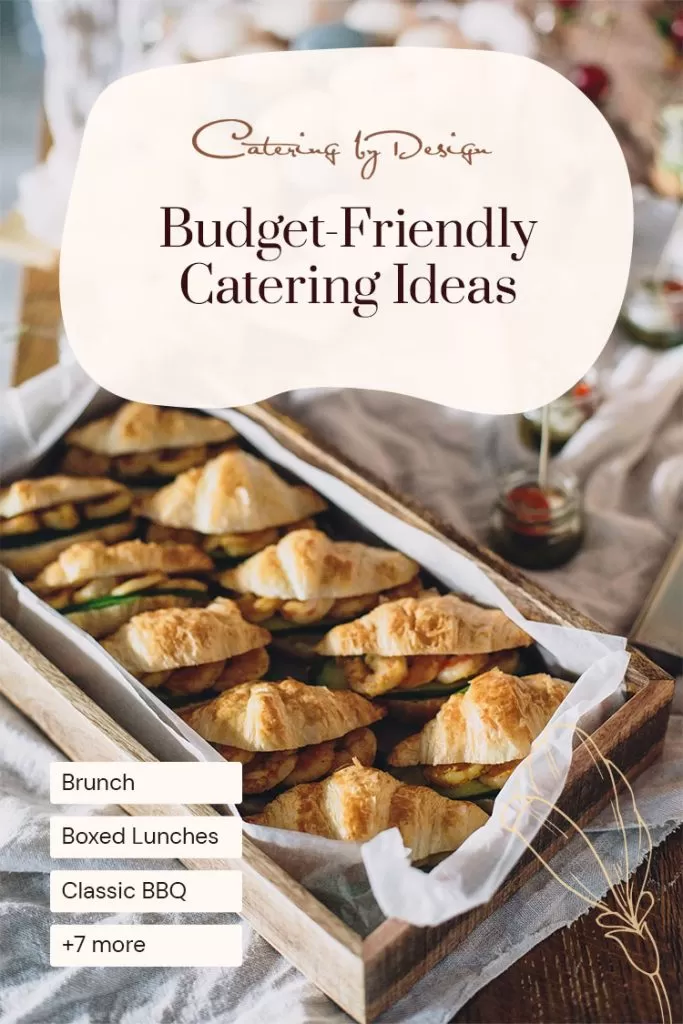 4. Classic BBQ
Who doesn't love a good barbecue? Catering delectable Southern dishes can make any event feel more personable and inviting. This menu choice could be perfect for your backyard wedding or family reunion over the holidays. Some common Southern BBQ items include:
Macaroni and cheese
Beef brisket
BBQ chicken
Baked ham
Green beans
Cornbread
Bread rolls
Salads
Corn on the cob
Strawberry shortcake
You can find many caterers who offer BBQ options and work with them to find the perfect menu that fits your needs. Though this option is cheaper, it will leave your guests feeling just as satisfied.
5. Build-Your-Own Soup and Salad Bar
Similar to a buffet, a soup and salad bar is one of the most budget-friendly catering options out there. Generally, meats and specialty items tend to be more expensive. Sticking to simpler foods like salad and soup can prevent you from overspending while providing plenty of choice. Your guests can choose from several classic mouthwatering soups, such as:
Chicken tortilla
Chicken noodle
Broccoli cheddar
Tomato bisque
Vegetable soup
After that, they can create a salad of their choice from a limited menu. This type of catering is perfect for a business lunch or early morning meeting that is shorter in duration or falls outside of regular meal times. This build-your-own menu gives guests just what they need to feel full and satisfied without needing a three-course meal.
6. Functional Finger Foods
Catering finger foods like sandwiches, pigs in a blanket and buffalo chicken dip is a great way to offer plenty of variety on a budget. Fingers foods are easy to eat, so you usually won't need utensils. Like the other casual options we mentioned, having a spread of finger foods also makes it easier for guests to mingle at your event without being tied to a table.
With finger foods, you promote more socialization and engagement while providing a large selection of delicious options. Finger foods can be well-suited for large sports gatherings, birthday parties, pool parties or even cocktail hour at your wedding. Other examples of finger foods might include sliders, meatballs, spring rolls, crab cakes and hummus.
7. Tea Sandwiches and Cheese Boards
Not all events necessarily require a sit-down formal dinner. If you're hosting a business lunch with the goal of getting employees and partners to socialize, having tea sandwiches and cheese boards can inspire more mingling. While charcuterie boards are certainly popular and delicious, having a wide variety of meats may be a bit more expensive.
Not to mention, menus heavily relying on charcuterie meat can exclude vegetarian or vegan guests. With a lighter afternoon tea menu, you can save money on the cured meats. For example, your social event menu could include a pimento cheese tea sandwich, cheese and crackers, or chicken salad croissants.
8. Appetizers Instead of Entrees
Like finger foods and cheese boards, catering assorted snack items can also be a cost-effective way of feeding your guests. Some caterers offer sides or snack options that you can pick and choose from to create a simple lunch. In some cases, you can find a "light" menu that has simpler items, such as hard-boiled eggs, yogurt, fruit and bread.
If you want more of an afternoon appetizer theme, combining several snack items can give you a flavorful yet cheaper menu. Some examples of snack items or appetizers you can offer include:
Chips and salsa
Cheese and crackers
Assorted fruit
Assorted nuts
Vegetable or artichoke dip
Potato chips
Granola bars
Trail mix
Cookies and brownies
Popcorn
Assorted mini candy bars
These items would be perfect for a celebratory lunch in the office, a movie night event or a social hour for new employees.
9. Cost-Conscious Options
No matter what event you're planning, be sure to ask around to see what budget-friendly alternatives caterers offer. Some will have specific inexpensive catering menus or cost-conscious options for this purpose. Working with a caterer that offers cheaper alternatives means you can worry less and focus on other event priorities. Budget-friendly lunch or dinner menus may offer classic items like chicken marsala, potatoes, grilled veggies and dinner rolls. To reduce costs even further, ask about making your menu into a buffet-style.
When in doubt, don't be afraid to ask your caterer what they offer. They'll be happy to work with you and customize the menu to meet your budget and guests' needs.
10. Family Style Meals
Hosting a family reunion, birthday party or holiday event? Catering an event with your closest loved ones is the perfect opportunity to choose a family-style menu. You can enjoy all the classic foods you love around the holidays, such as a juicy carved turkey or Virginia baked ham, without overspending.
Family style encourages everyone to share and serve themselves on big platters of food, making everyone feel like they're part of one big family. Talk to your caterer about their family-style options and see if they offer additional upgrades.
Cheaper Catering Alternatives FAQ
Have other questions about keeping your catering costs low? We've rounded up a few questions and answers for you below.
What Are Some Affordable Dessert Options?
Depending on the type of event, you might be able to offer various desserts in large quantities that still fit your budget, including:
Cookies
Brownies
Cake squares
Various cheesecake slices
Miniature desserts
Dessert shooters
How Else Can I Save on Catering for an Event?
To save extra money, consider cutting back on beverages or desserts. Usually, daytime events won't necessarily need desserts, and you can provide self-serve drinks stations for guests if needed. You might consider setting up a DIY beverage bar where guests can mix their drinks to their liking without having to pay for individual drinks or an open bar.
To minimize costs, the most effective thing you can do is start with a simple menu. Depending on the size of your event, you probably won't need to offer five or six sides. You can also use disposable dinnerware and utensils to save money and time on cleanup. Finally, consider your portions. If you have a plated dinner, stick to smaller plate sizes to prevent guests from feeling overly full and limit food waste.
Cater Your Next Budget-Friendly Event With Catering By Design
Whether you're planning your wedding day or a corporate lunch to raise employee morale, food is at the heart of what brings people together. However, that doesn't mean you have to overspend to feed your entire party. If you want quality food for your upcoming event without breaking the bank, Catering By Design can help you find a menu that fits your needs.
For over 20 years, we've offered friendly, professional catering services in the Raleigh-Durham "Research Triangle" area. We provide preparation, delivery, presentation and cleanup options. We also make it easy to customize our made-to-order menu options so you can create something truly unique. We'd be happy to work with you to make your day as stress-free as possible. Contact us today to plan your next catering event or view our menus online.