March Madness Catering
You may have discussed everything about bubble teams, brackets, buzzer beaters and every other detail that leads up to the "Big Dance." It's that time of year all basketball fans love, thanks to the National Collegiate Athletic Association (NCAA) — it's March Madness.
To celebrate the run-up to the Big Dance or the big day itself, why not get your March Madness catering sorted by Catering By Design? We operate in the Raleigh-Durham area and prep, deliver, present and clean up the food service afterward, allowing you to focus on the important bit — watching the games.
March Madness Party Food
We understand this tournament is a big deal, so you can easily take March Madness food planning off your to-do list with our services. Whether you want snacks, post-game food stations or comfort food, we have a March Madness menu for you. We do vegan and vegetarian options too!
1. Sporting Event Buffet
Enjoy BBQ meatballs, pigs in a blanket, hot buffalo chicken dip, pita points, build-your-own-sliders, cajun wings with celery, ranch and blue cheese, and fresh vegetables with homemade ranch dressing. This famous buffet has something for every fan to enjoy.
2. Backyard Picnic
If you want to do something fun, the Backyard Picnic is a great option. You can have a slider bar where guests build their own burgers. Select between beef burger, pork BBQ or Mexican chicken with buns, sliced cheddar, slaw, jalapenos and other sauces and slider toppings. Savor the tastes of broccoli salad, baked beans, deviled eggs and fresh fruit as sides, and indulge in cookies and brownies — a slam dunk food affair.
3. Classic Boxed Lunches
A favorite alternative to traditional catering is our boxed lunches — perfect for a March Madness work event or if you want to do something different. You can customize the items, but a popular choice is sandwiches served with potato chips, fruit, cookies and brownies. Choose between delicious ham and swiss, turkey and provolone, roast beef and cheddar or classic chicken salad sandwiches.
4. South of the Border
If you want to give your March Madness a Mexican flair, tacos may be just what you need! Enjoy deliciously seasoned chicken and ground beef with all the toppings and trimmings in flour tortillas and taco shells.
Do you want to throw a March Madness Party this year? Catering By Design, the local experts for special event catering Raleigh NC services, has put together a great list of tips that will keep your party guests from making a fast break to the door. For college basketball fans, the month of March is time to hopefully celebrate our favorite teams making it into the NCAA Tournament. Whether you're wanting to throw an in-office party and let your employees enjoy a little downtime, or maybe you're in need of some ideas to throw a large party for all of your college buds, make sure to keep reading these tips below before tip-off gets here.
March Madness Party Tips
For hosting your party, you can really go a few different directions. You can have a Selection Sunday Party. That's the day all the teams are picked to participate in the NCAA Tournament. The tournament's schedule also goes on throughout the month of March and into April. As a matter of fact, some of the most exciting NCAA tournament games are played during the last weekend of March and the first week of April. This first week of April usually brings The Final Four. This is where the remaining NCAA basketball teams compete for the NCAA championship title; having your party here would be great if your favorite team makes it this far.
You can even have a NCAA Tournament Bracket Party where all the party guests fill out a bracket and whoever gets the most teams right can win a prize during the championship game night.
If you're wanting to have an office party for your employees, doing it during the first week of play is usually a good idea. Especially if you have a lot of fans of the same team, you can have your office party that day so all your employees will be productive the rest of the week. Not to mention that having a catering Raleigh NC company, like Catering By Design, help you with all the details is a great way to reward your employees for a job well done.
Speaking of catering, food is a must. You really must have something for your friends, or employees to munch on. You'll either need to order out for pizza, pick up a few veggie trays, or ask all of your friends that are coming to bring a potluck dish if you're not going with our catering service.
Be sure your March Madness Party has lots of viewing room with either a projector and large wall, or see if a few friends will help you by adding a few extra televisions. It is also important to think about the seating. You should go out of your way to have extra chairs and places for people to sit and watch.
Top Notch Catering Raleigh NC
Let Catering By Design help you with all of your catering Raleigh NC needs. We have the perfect menu for any sized event. We can even deliver and leave if that's all you need. Call us today and learn more about why we're the number one catering company in the Triangle.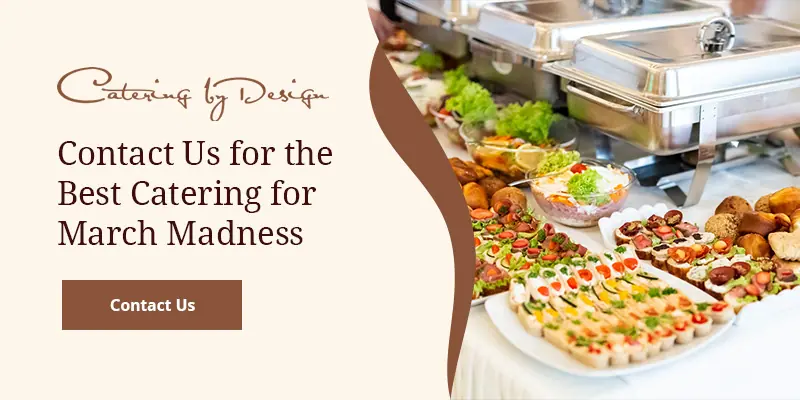 Contact Us for the Best Catering for March Madness
With our 20-plus years of experience, complete menu customization, delicious food, quick responses and competitive pricing, you can focus on the games and guests — we got the catering. Contact us online or call us today to order.