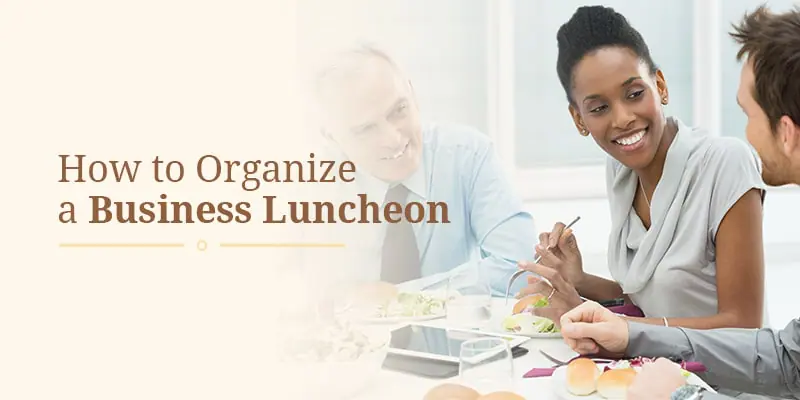 When a company meeting occurs around lunchtime, professional courtesy usually involves providing clients and employees with a meal. Catering can help those in administrative roles accommodate these requests with ease. Prepare your next corporate lunch with these food ideas for business luncheons.
1. Customize Boxed Lunches
Corporate menus should consider allergies and food restrictions to ensure everyone can enjoy the provided meal. When coming up with food ideas for business meetings, select boxed lunches as a way to suit various preferences. These catered items feature a labeled name on the packaging, so you can quickly identify each order when handing them to the correct person.
Some typical boxed options include:
Beverages such as water, lemonade, soda, tea or coffee.
Chicken, beef, turkey, ham, tuna or vegan sandwiches.
Specialty salads with chicken, shrimp or salmon.
Side dishes of fresh fruit or pasta and potato salads.
Desserts such as cookies, cheesecake and brownies.
Disposable napkins, tableware and flatware.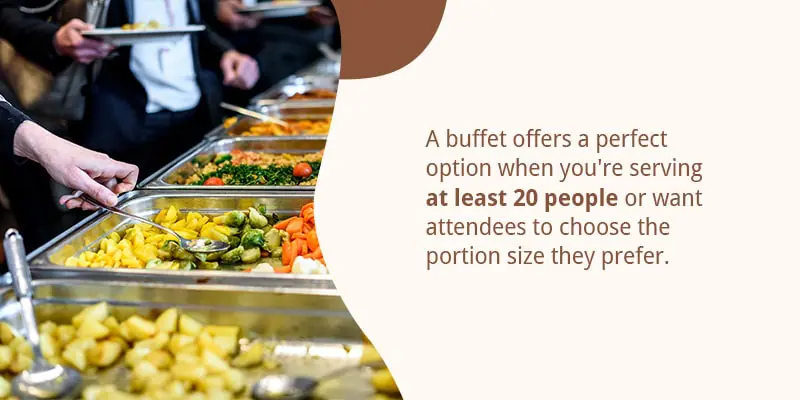 2. Select from Buffet Options
A buffet offers a perfect option when you're serving at least 20 people or want attendees to choose the portion size they prefer. Catering conveniently provides everything you need to create an orderly assembly line for serving food while keeping each of the contents warm in suitable containers.
Get inspired by these well-favored buffet options for workplaces:
An Italian display of chicken parmesan and beef lasagna.
American burgers, BBQ ribs, pot roast, beef tenderloins and meatloaf.
Mexican cuisines such as chicken, steak and ground beef tacos and enchiladas.
Southern comfort foods with pulled pork, baked ham, beef brisket and fried chicken.
Vegetarian add-ons such as homestyle tofu, portobello mushrooms or stuffed red peppers.
3. Provide Sweet and Savory Snacks
Sometimes a meeting lasts beyond lunchtime into the afternoon hours. When planning food for meetings, keep guests and employees happy and well-fed with delicious snacks and beverages they can enjoy during a break or casual conversation.
Accommodate all diets or cravings with the following:
Healthy yogurts, nuts, granola bars, veggies or fruits.
Sweet cookies, brownies, scones and candy bars.
Savory potato chips or tortilla chips with salsa.
Coffee, juice, tea, lemonade, sodas and water.
Plan Your Next Business Lunch With Catering By Design
If you're preparing food for a workplace luncheon, meeting, conference or event in Raleigh and Durham, North Carolina, and surrounding areas, book your food with Catering By Design. We accommodate any headcount and take care of every aspect of the food. Our extensive menu suits many dietary preferences and restrictions with boxed lunches, buffets, snacks and more.
To schedule a delivery, pickup, set up or full service with our catering company, call 919-481-2366 or contact us online to book our services!