If you are planning a large-scale event, one of the most important considerations is the menu you will serve. Your catering planning will have additional elements to consider, like portion sizes, preparation times and how many ingredients you want each dish to include.
Luckily, Catering By Design has extensive experience creating delectable menus while meeting dietary restrictions for events of any size. Our team will take the time to get to know you and your event to make recommendations that will stun your guests.
Catering Ideas for Large Parties
Our food recommendations will vary depending on what time of day your event is. Some of our suggestions based on meal type include the following:
Breakfast
Help your guests start their day off right with a delicious catered breakfast. You could try these filling meal recommendations:
Fresh fruit platters
Cereal stations
Breakfast sandwiches
Pastry platters
Brunch
Brunch is an excellent idea for mid-morning events — guests can enjoy many of the same treats from breakfast while digging into more savory lunch options. Some of our brunch ideas could include:
Omelet stations
Specialty breakfast casseroles
Burger bars
Carving stations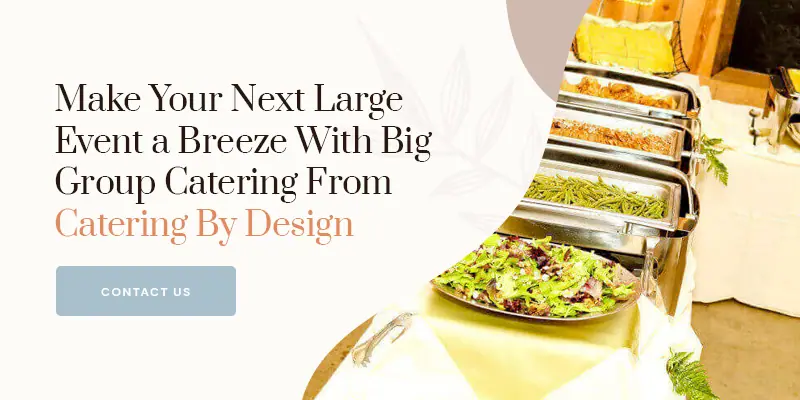 Lunch
Lunch is one of the most popular meal options for catered events. Lunch options for a big group might include:
Salad bars
Pasta stations
Charcuterie boards
Build-your-own bowls or burritos
Dinner
Typically, dinner is the largest and the most formal meal, meaning you can plan more to meet your guest's needs. Along with food, you can also use this time to offer specialty drinks. A few dinner ideas we may suggest are:
Fresh vegetables
Short ribs
Chicken dishes
Mac and cheese stations
Dessert
Catering dessert is one of the best ways to make any event more sweet. A selection of sweets available for catering could include:
Brownies
Cookies
Oreo Mousse
Banana Pudding
Big Group Catering Ideas by Season
In addition to meals, you will want to consider the season when planning the menu for your large group event. Some of our catering ideas based on the season include:
Spring
Spring is the perfect time to incorporate fresh ingredients into your catering menu with mint and floral beverages or Mediterranean dishes.
Summer
Embrace the warmer weather with light catering options like lemonades with fresh fruit and vegetable skewers.
Fall
Celebrate the sweetness of the fall season with Thanksgiving-inspired casseroles and pumpkin spice cookies and drinks.
Winter
Winter is a great time to give your event a cozy feel with holiday-themed cocktails and comforting entrees like soups.
Make Your Next Large Event a Breeze With Big Group Catering From Catering By Design
Whether your guest list is in the hundreds or thousands, one of the best ways to unite each of your guests is through delicious food. At Catering By Design, we have over 20 years of experience providing memorable catering for large groups near the Raleigh-Durham area, making us a great catering choice. Contact us today to start planning the menu for your next event!