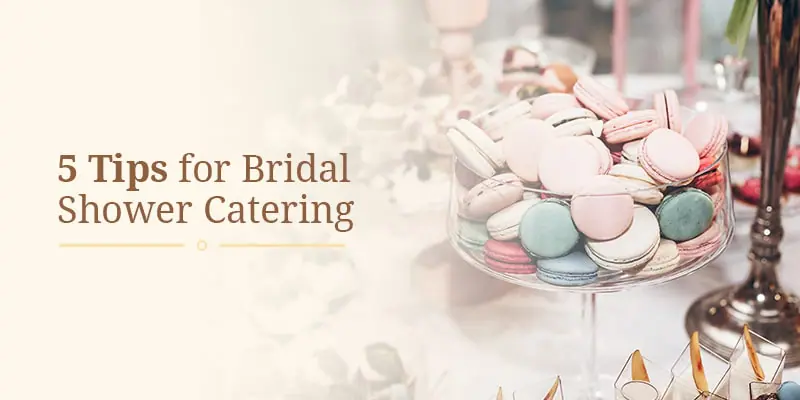 Bridal showers gather all the important friends and family members in a wife-to-be's life to celebrate her decision to tie the knot. As a tradition, bridesmaids and maid-of-honors usually host the gathering while the bride focuses on preparing for the wedding. To make party planning as simple as possible, follow these bridal shower catering ideas.
1. Design a Thematic Drink
Beverages are essential for any occasion. You can keep it simple with lemonade and tea or customize a drink for the event. For example, a refreshment suited to an event theme might include pina coladas with umbrellas for a tropical bridal shower.
2. Pick Various Hors d'Oeuvres
Guests may need some light appetizers to enjoy when they arrive. Consider light and easy bites to eat, such as fruit, crackers and quiches. A catering company can set all of this up in a visually-pleasing way before the bridal shower's start time, so you can focus on finishing decorations and preparing to greet friends and family members when they arrive.
3. Choose the Bride's Favorite Food
When brainstorming bridal shower lunch ideas, consider selecting a buffet to accommodate everyone cost-effectively. Pick the type of food based on the event theme or the wife-to-be's preferences.
Fun examples of main meals include:
Pitas and manicotti for an Italian party.
Burgers and barbecue for a backyard picnic.
Pulled pork and chicken for a Southern meal.
Chicken and steak in flour tortillas for a fiesta.
Wings, meatballs and pigs in a blanket for a sporty theme.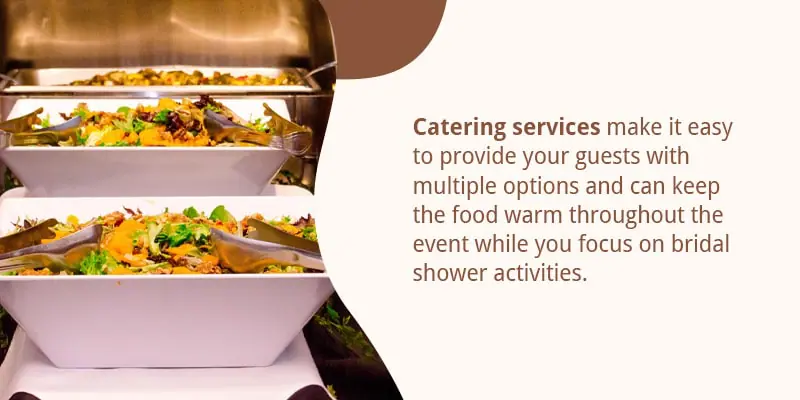 4. Select Some Savory Sides
Each dish should come with a few sides. Depending on the food palette you want, standard options may include vegetables, mashed potatoes, macaroni and cheese, black beans with cilantro rice, spring rolls, crab cakes and more. Catering services make it easy to provide your guests with multiple options and can keep the food warm throughout the event while you focus on bridal shower activities.
5. Decide on a Sweet Dessert
As the finishing touch to your bridal shower catering menu, you should add a sugary treat. Assorted miniature desserts, cookies, brownies, pies, cheesecakes and cakes provide delicious options. Guests can enjoy the desserts while watching the wife-to-be open presents at the end of the gathering.
Book With Catering By Design
If you're planning a bridal shower in Raleigh, Durham or the surrounding areas in North Carolina, trust Catering By Design for all your food needs. Our catering helps you customize a perfect meal spread to suit your theme and amount of guests. We offer delivery, pickup and event set-up as a full-service catering company to provide our clients with an easy and convenient experience.
To book our services, call us at 919-481-2366 or contact us online today!