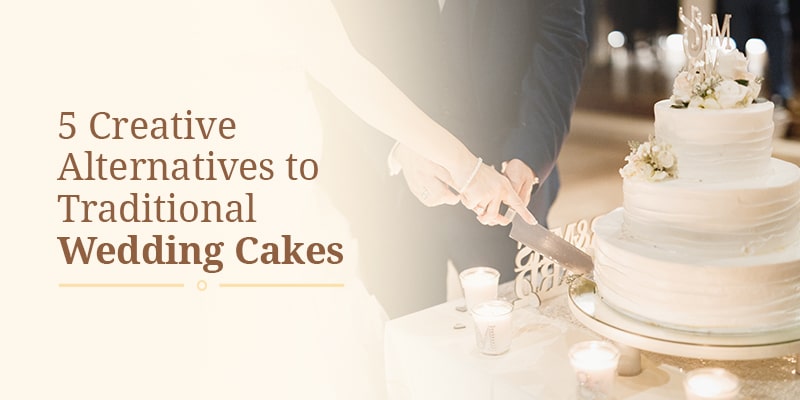 Weddings are a time for celebration — happily vowing your love while surrounded by loved ones is a joyful occasion. You can show off your creativity with a unique wedding dessert idea.
While many people opt for the traditional wedding cake, a tiered sweet centerpiece that acts as an edible extension of your chosen theme, some choose to branch out. Check out this list of fun non-traditional alternatives to the wedding cake you can use for your ceremony.
1. Cheese Wheel "Cake"
The great thing about hosting a wedding is that it's entirely up to you how you wish to celebrate your love. If you don't have a sweet tooth and want to take the savory route instead, we suggest a tiered cheese wheel tower, an intersection between a charcuterie board and a cake.
Paired with a wine tasting station and a variety of cracker flavors, this "cake" will give your guests something delectable to remember and talk about for a long time.
2. Rice Krispies Treat Cake
To plug some nostalgia into your ceremony, you can create a tower of tiered Rice Krispies treats that will lead to a fun and lighthearted atmosphere. If you want to maintain some customs while stepping outside the box, you can also incorporate real cake underneath your Rice Krispies creation to give it more structure and a subtle callback to beloved traditions.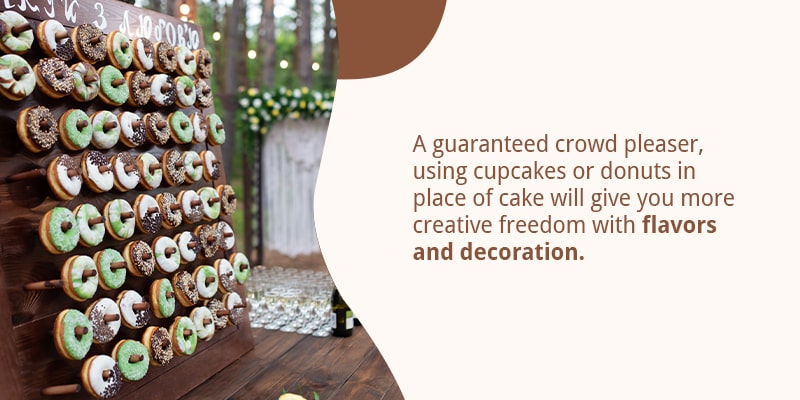 3. Cupcake or Donut Tower
A guaranteed crowd pleaser, using cupcakes or donuts in place of cake will give you more creative freedom with flavors and decoration. These towers are also easier to store! Guests will love the whimsical look and excitedly choose what they want. Cupcake or donut towers make your guests feel more catered to than a cake they might not have a say in.
4. Croquembouche Tower
Referred to in French as the pièce montée, this sculptured centerpiece is a show of culinary prowess. A croquembouche features rolls of choux pastry filled with either chocolate or vanilla pastry cream that are stuck together with hot caramel. Decorated with spins of caramel, this tasty treat is lighter than cake but just as satisfying to impress your guests.
5. Crêpe Cake
Staying within the French theme, a crêpe cake is both visually appealing and requires less effort than something as grand as a croquembouche. Layers of crispy thin crêpe sandwiched with whipped cream of any flavor of your choice, this cake is a simple way to show off an elegant dessert. It will give your ceremony a touch of sophistication that dazzles guests — and it's just as delicious as it is beautiful!
Get Creative With Your Centerpieces
At Catering By Design, we've been a trusted service for weddings and events for over 20 years. We offer custom-made-to-order wedding catering for your big day. Our customers in the Raleigh-Durham area know we provide great food for fair prices that work for you.
Contact us today to learn more about creative wedding cake alternatives. We'll do everything we can to impress you and your guests!