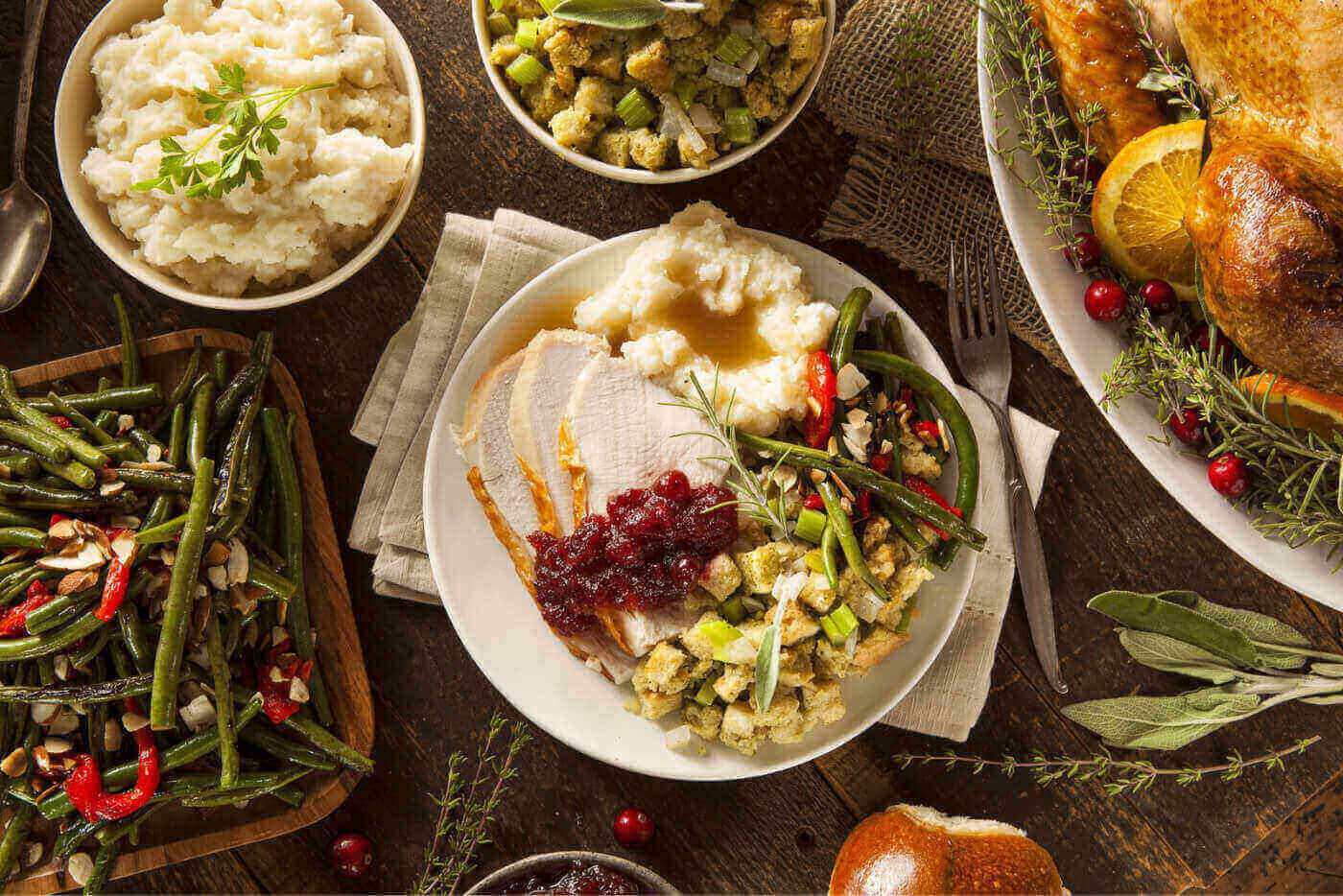 It's time for a month filled with lots of food and fantastic treats. However, some of our friends and family are not able to eat the same ole traditional fare that others can enjoy. We're talking about gluten allergies today and how to make some fantastic gluten free stuffing for your big Thanksgiving meal. You'll be surprised by how delicious these will taste!
Give them a try and let us know in the comments what you think! For the best Raleigh event catering, call Catering by Design today for a quote!
Classic Gluten Free Stuffing
Prep Time: 10 minutes
Cook Time: 30 minutes
Total Time: 40 minutes
Servings: 8 – 10
Ingredients:
Canola spray oil
2 – minced shallots
2 – diced yellow onions
2 – diced celery stalks
2 – diced carrots
4 tablespoons – unsalted butter
2 teaspoons – dried sage
2 teaspoons – dried thyme
1/2 teaspoon – fine sea salt, or to taste
1/2 teaspoon – ground black pepper, or to taste
1/2 cup – dry white wine
1 cup – gluten-free chicken broth
1/4 cup – chopped fresh parsley
6 cups – gluten-free bread cubes
Directions:
First you'll need to preheat your oven to 300 F. Next, take your bread cubes and evenly spread them out on a large rimmed baking sheet. Bake for about 20 minutes, or until dry and golden brown, while stirring occasionally. Remove from oven and let cool. Increase oven temp to 325 F.
Next, take your medium sized skillet and melt the butter over medium heat. Now add your shallots, onions, celery and carrots and cook until soft and golden brown while frequently stirring. Next add the sage, thyme, salt and pepper and continue cooking over medium heat for about 2 minutes. Now you will add the wine and continue to cook until your liquid has been reduced by roughly half.
Grab your 9×13-inch baking dish and lightly spray it with oil. Now take a large bowl and combine your cooked veggies with the bread cubes, chicken broth and parsley. Transfer all of this into the greased baking dish and bake for about 30 minutes, or until it is hot throughout and golden brown.
Recipe Source:

Quinoa Stuffing with Apple, Sweet Potato and Hazelnuts
This one takes a little over an hour to fully cook all the components but makes for one delicious meal.
Ingredients:
fine sea salt
1 cup – dry quinoa, cook according to package directions
2 – diced sweet potatoes
2 – large cut apples – Granny Smiths are best
1 tablespoon – lemon juice
1/2 cup – pure maple syrup divided portion in two 1/2 portions
1 cup – chopped hazelnuts
2 tablespoons – melted coconut oil
1 tablespoon – fresh thyme leaves
a few pinches ground cinnamon
a few pinches ground ginger
fresh or dried cranberries for garnish
Directions:
First, coat your apples with lemon juice so they do not turn brown. Preheat your oven to 400 F with the rack in the middle. Next, cook your quinoa according to the directions on the package. This usually takes about 20 minutes. Then you should toss the sweet potato cubes and apples with 1/4 cup, or one portion of your Maple Syrup, coconut oil and a few pinches cinnamon, ginger and salt. Now roast the apples and sweet potato cubes for about 35-40 minutes, or until everything is tender and fragrant.
Remove this from the oven and grab a large bowl. Combine this with the quinoa and the remainder of the maple syrup in the bowl and then fold in the thyme and hazelnuts. Season to taste and serve!
Affordable Raleigh Event Catering for Thanksgiving
The holidays are almost upon us and Catering by Design is ready to provide your family with the best Raleigh holiday catering. We have a menu to fit any budget. You can also customize your catering menu, truly making your event "catering by your design". Give us a call soon, our holiday event calendar is filling up quick but we still have some nights and weekends left.