If you're planning a wedding, business event or party, you may find arranging food overwhelming. With extensive menu planning, table presentation, cleanup and other things to consider, it's challenging to pull everything off on your own.
To plan a successful event and ensure everything runs smoothly, you'll need some help along the way — that's why hiring a full-service catering company is a must. Read on to learn more about full-service catering and why you should consider it for your next event.
What Is a Full-Service Catering Company?
While a traditional caterer typically handles table setup and food display only, a full-service catering company provides an array of services throughout the event process. You'll have a kitchen staff, servers, bartenders and front of house. They perform tasks like setting up tables, distributing food, bussing away plates and glasses and cleaning up after the event.
In addition to helping with the event itself, a full-service caterer will often assist the planning process. They'll work with you to plan the ideal menu for your event and may even assist with non-food-related tasks like selecting a venue. A full-service catering company saves you a considerable amount of time, stress and energy.
Who Uses Full-Service Catering?
While you can find catered food at a wide variety of parties, sports games and events, three common types of catering are corporate, wedding and social event catering.
1. Corporate Events
Corporate catering is the service of providing food for a business's employees, whether it's for a private office meeting, regional event or employee training. Depending on the company's needs and requests, these corporate catering services can be regular or for a one-time event.
Some common types of catering for business events are continental breakfasts, boxed lunches and dinner buffets. Full-service catering is a great way to treat your employees and reward them for their hard work.
2. Social and Special Events
There's no better way to celebrate a special occasion than with food, making full-service catering an ideal option for your event. Social or special event catering providing food for a special event such as:
A birthday party
A graduation party
A retirement party
An awards banquet
A family reunion
No matter the holiday, life milestone or occasion, a full-service event caterer can provide stellar food and beverages for all to enjoy.
3. Weddings
Seeing as the food menu is a significant part of your wedding day, full-service wedding catering is a must to ensure everything runs smoothly. From accommodating guests with dietary needs to tying your menu into the wedding theme, there are many important factors to consider. Thankfully, a professional catering company can help take these responsibilities off your hands.
As you and your partner plan the many other details of your wedding, consider hiring a full catering service to handle your menu. A wedding caterer will provide quality food and bartending services and create a beautiful presentation that makes your day extra special.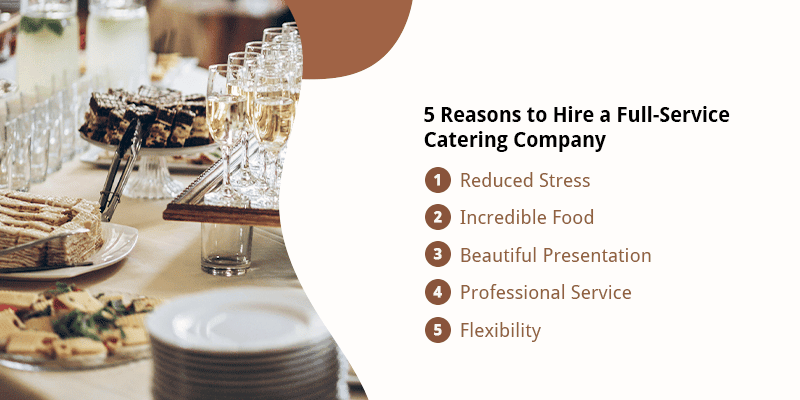 5 Reasons to Hire a Full-Service Catering Company
Why is catering important for an event? We'll give you five great reasons!
1. Reduced Stress
When planning a large celebration or gathering like a family reunion, wedding reception or work party, attempting to handle the menu singlehandedly can be a struggle. With many responsibilities to consider — like food and drink planning, shopping for ingredients, handling table presentation and cleaning up afterward — hiring a full-service caterer makes sense.
2. Incredible Food
A full-service catering company will enhance your event with amazing appetizers, entrees, beverages and desserts. With their extensive culinary knowledge and strong attention to detail, you'll have a quality menu that sets the bar high for your event. Treat your guests to quality food and an unforgettable dining experience when hiring a professional caterer.
3. Beautiful Presentation
Making the food look as good as it tastes is another catering service specialty. Keeping the desired theme and style of your event in mind, a full-service caterer can create a picture-perfect table presentation to exceed your expectations. From elegant table settings to gorgeous centerpieces, they'll go the extra mile to make your food look irresistible.
4. Professional Service
Besides a quality menu and presentation, professional service is crucial for leaving a strong impression on your guests. A professional catering staff will provide top-notch service and assist guests throughout the event. Whether it's refilling glasses, answering questions about the menu or providing full cleanup after the event, a caterer will demonstrate incredible service and respect toward you and your guests.
5. Flexibility
A professional caterer understands that every event has unique needs and specifications, and they'll make every effort to accommodate them. While most caterers offer standard menu options to choose from, there's usually some level of flexibility if you have any special requests.
Maybe you'd like to customize or swap out a specific menu item or provide options for those with dietary needs and restrictions. A good caterer will happily work with you to fulfill these needs however they can. When you meet with your caterer, discuss these requests with them to see if and how they can make these accommodations.
Professional Catering Services in North Carolina
If you're looking for a professional caterer that embodies the above qualities and more, Catering by Design is your go-to. We provide quality full-service catering throughout North Carolina's Research Triangle. For over 20 years, we've serviced companies, event planners and families in the following areas and more:
Raleigh
Apex
Cary
Chapel Hill
Clayton
Durham
Garner
Holly Springs
Knightdale
Wake Forest
Whether you're planning a corporate event, wedding or another special occasion in one of these areas, it's our pleasure to be part of it. Elevate your next event with our full-service catering — we can provide plated table service or a buffet for any occasion.
Our skilled culinary team uses the freshest quality ingredients to create a delicious menu that will both wow your guests and complement your event. From private tasting sessions to event cleanup, we'll take care of every tedious step so you don't have to.
Our services extend beyond food as well. We can refer you to the top Research Triangle vendors including florists, photographers, event planners and venues. We'll offer a helping hand in any way we can to make your event a memorable success.
Contact Us for Your Next Event!
Catering by Design is the number one source for all of your catering needs in the Research Triangle. With the best menus, service and presentation, we'll make feeding guests at your next event a breeze. Whether it's a university dinner, wedding reception, corporate luncheon or another social gathering, Catering by Design will ensure your food is top-shelf quality.
We've been serving up smiles to people all over North Carolina for decades. Contact us today to learn more about our catering services or book us for your next event!