Are you thinking of hiring a professional caterer for your next event? When determining how to find a caterer, you should consider a few important factors, such as the type of service required for your event and things to look for in a catering company. Keep reading for plenty of useful information so you can hire the best caterer for your event.
What Is Catering?
A catering service makes and provides food and drinks for gatherings such as parties, weddings and business events. The business will prepare a selection of refreshments — whether it's hors d'oeuvres or a three-course meal — for the party's guests. This menu is pre-approved by the person hiring the catering business.
What Services Do Caterers Provide?
A professional caterer can tailor your event's menu to meet your exact specifications while fulfilling any special food requests. Some catering companies will simply prepare the food and drop it off at a designated location. A full-service catering business often includes additional services such as setting up and tending to the buffet, refilling beverages and cleaning up afterward.
4 Types of Catering to Consider
Below are the four common types of event catering to help you decide which one suits your gathering the best:
1. Corporate Catering
If you work in administration, you may have been tasked with ordering food for your office at some point. The service of providing food for a company's employees is referred to as corporate catering.
This kind of catering extends to a range of small and large gatherings — private office meetings, employee trainings, regional events and more. Popular choices for business events are boxed lunches, dinner buffets and continental breakfasts.
Per the company's request, a catering business can provide corporate catering services on a regular basis or for one-time events.
2. Wedding Catering
There's no denying that food and drinks are a major part of a wedding, making wedding catering a critical service to consider. It's important to plan a menu that ties in with your wedding theme and the season while accommodating any special dietary needs of your guests.
Hiring a wedding caterer takes a considerable amount of stress off any couple as they plan out the other details of their wedding and it allows for amazing food and beverage options to make their special day even more memorable.
3. Social Event Catering
Life is full of exciting achievements and milestones that call for celebration — what better way to commemorate a special moment than with food? A social event caterer provides food and drinks for birthday parties, holiday parties, graduation parties, retirement parties and other social events. Whether it's a summertime barbecue or a Christmas party, a skilled catering company can fulfill the needs of any seasonal celebration.
4. Concession Catering
When you attend a large public event such as a sports game or concert, you'll more than likely find catered food such as hotdogs, burgers, nachos, fries and soft drinks. That kind of catering is known as concession catering. Because a concession caterer will be tasked with whipping up large amounts of food to accommodate big crowds, it's crucial to hire a pro.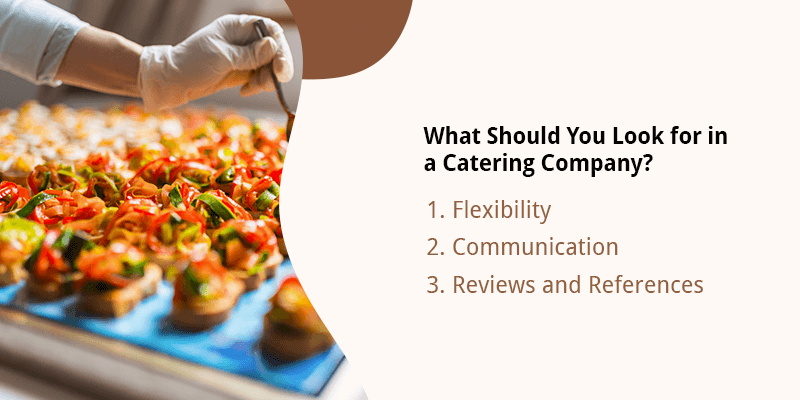 What Should You Look for in a Catering Company?
Below are some important points to consider before selecting and hiring a catering company for your next event:
1. Flexibility
Though most caterers will have standard menu items to choose from, they'll often allow some level of flexibility to accommodate special requests for your event. If you wish to substitute or customize a specific item in some way, or you need to provide options for guests with special dietary needs, speak with the caterer to see whether they can make the necessary menu accommodations.
2. Communication
A reliable caterer will regularly communicate with their clients throughout the entire process to ensure both parties are on the same page. Ideally, they'll schedule meetings with you leading up to the event, discuss what's expected of you on your end and allow you to sample menu items. The caterer will also answer any questions you may have regarding the process and clear up any points of confusion. Like any other type of business, strong communication skills are essential for caterers.
3. Reviews and References
Generally speaking, positive reviews and feedback from references indicate that the caterer is trustworthy and can perform the job well.
Before choosing a catering service, read online reviews and testimonials from previous clients. Then, when you contact the caterer, consider asking for some references so you can speak directly with someone who has worked with them in the past. This can give you a better idea of their experience, professionalism and ability to work with others.
Additionally, you can ask the caterer questions regarding their certifications. Of course, food safety is extremely important to consider, so knowing that your caterer is fully competent in that regard may help you feel more comfortable about hiring them.
Why Should You Hire a Catering Company?
Next are some reasons to consider hiring a catering company for your corporate event, wedding, public or social event:
1. High-Quality Foods and Beverages
One of the most clear-cut reasons to hire a professional caterer is that they can provide high-quality food and beverages for your event. With careful attention to detail and an impeccable level of skill devoted to every dish, a catering service can provide amazing food and drinks guaranteed to wow your guests. Treat your guests to a wonderful dining experience to take your event to another level.
2. Great Presentation
In addition to how the food tastes, presentation is an equally important factor to consider. Fortunately, a caterer will ensure each dish tastes as good as it looks. The catering service will accommodate the theme and nature of your event by providing a beautiful and picturesque plate and table presentation.
3. Reduces Stress
With extensive menu planning, ingredient shopping, setup and cleanup, providing your own food for an event can be a headache — especially when you already have so many other aspects to plan. By letting someone else handle that responsibility, you can focus on other details of the event and save yourself considerable amounts of time, stress and energy.
Contact Catering By Design for Your Next Event
If you're looking for a reliable and experienced caterer to handle your next event, Catering By Design is your professional solution. Whether you're planning a corporate meeting, wedding or social event, we provide reasonably-priced full catering services with exceptional service and quality food.
We're devoted to meeting the needs of every client with individualized attention. To learn more about what Catering By Design can do for your next event, contact us today!