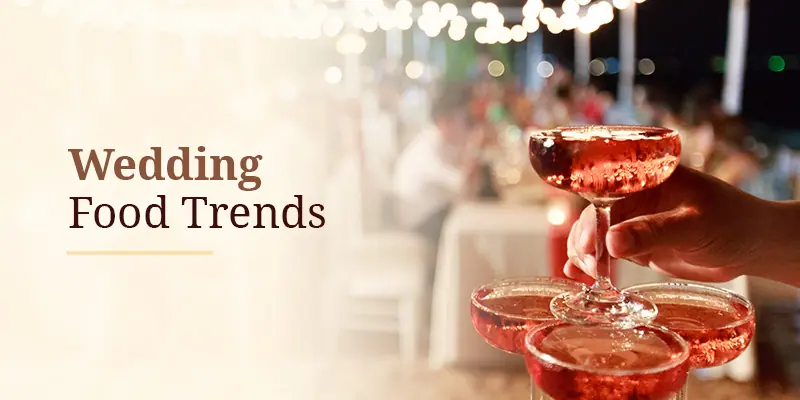 After a beautiful wedding ceremony, the reception food is a creative way to thank your guests for attending and your opportunity to choose trending dishes for all parties to enjoy. In 2022, brides and grooms are focusing on versatile dietary choices and using food to recreate their love story.
Take a look at the following wedding food trends in 2022 that can inspire the chosen cuisine on your big day.
Grazing Tables
Everyone loves a colorful and elegant charcuterie board. You can create the same delicious layout for your guests with the trending grazing tables idea!
Instead of passing around appetizers at the reception, the grazing table combines several ingredients onto a long wooden board or counter for guests to pass and pick.
The ingredients typically include crackers, nuts and seeds, sliced meats, whole fruits and cheese. These foods are great for nutritious flavors to try before the main course.
You can also create a vegan grazing table if you, your partner, guests or family members have specific dietary plans. Delicious vegan options to add to your grazing table include vibrant fruit slices, grape vines, bread bowls, toasted cauliflower and salsa.
Creative Cocktails
Some couples choose to serve wines from the year they were born so everyone can have a taste of the past.
You can also make fun mocktails for those who want a flavor boost without alcohol. Bartenders can make delicious mixed drinks with sodas, juices and other non-alcoholic beverages that match your wedding's aesthetic.
Bold Floral Wedding Cakes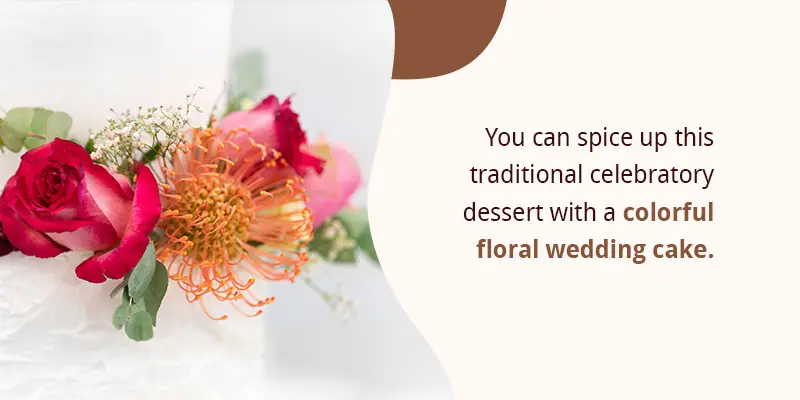 We've all seen the traditional white wedding cake tiers with white roses or lilies. You can spice up this traditional celebratory dessert with a colorful floral wedding cake.
Several wedding cake trends in 2022 make large, bright flowers the focal point of these layered desserts. Rather than standard white flowers adorning the top and sides of the cake, green eucalyptus, pastel pink daisies and blue hydrangea petals scatter the surfaces. This extra splash of color is perfect for adding depth and special meaning to the wedding cake that guests, family and the happy couple will remember for years.
If nature holds a special place in your heart, you can add vibrant plant decorations to your wedding cake that can also match the theme of your big day.
Going Local
Choose Delicious Reception Foods With Catering By Design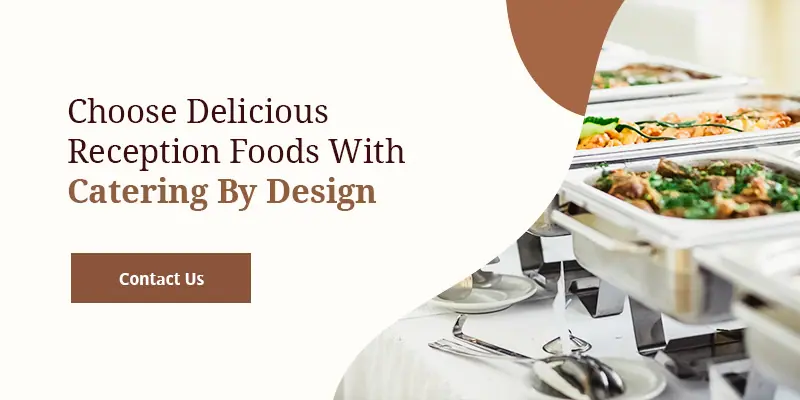 With Catering By Design, you can follow these wedding trends and create a unique food layout at your reception that tells the story of your and your partner's love. Our wedding food options combine several local and international cuisines to satisfy your taste buds.