The wedding industry in North Carolina is a billion-dollar one. Thanks to COVID-19, it has been flipped upside down. The pandemic has left brides, grooms, their families and friends, vendors of all sorts, and venues all guessing and wondering "what happens next?" Many soon-to-be newlyweds have been left with just three choices – cancel, reschedule, or get married. So how are you supposed to move forward? We're planning a large series that we hope will help you make all the right decisions that will be safe and fun for your big day whether it's later in 2020 or in 2021! Need a reliable Raleigh wedding catering service? Look no further than Catering by Design. We're following all the safety guidelines and look forward to serving your family and friends.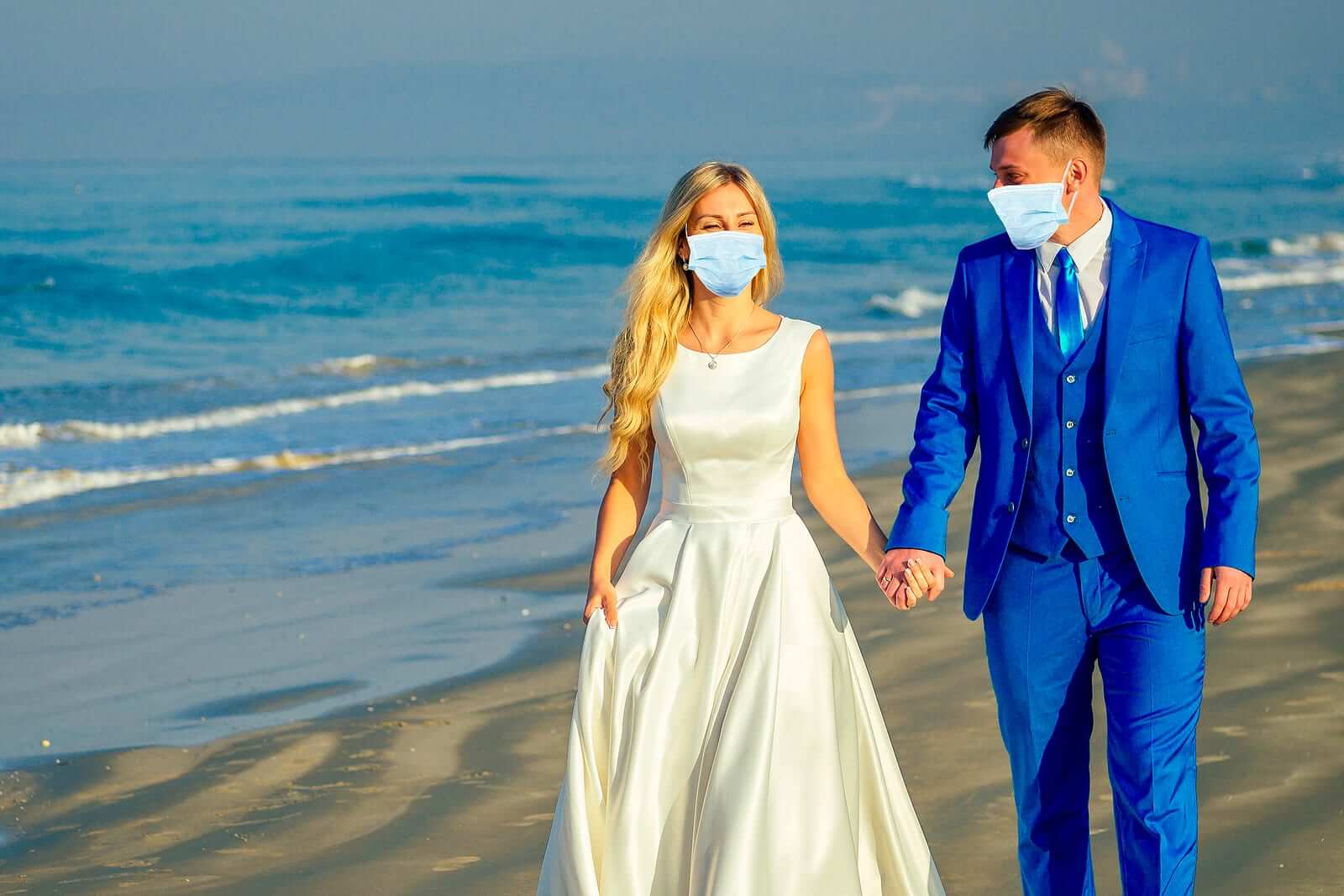 Current Status
For North Carolinians, we have yet to move into Phase 3. Phase 2 will stay in effect until at least September 11th. Under Phase 2, there is no limit on gathering size for weddings. However, the max gathering cap does apply to pre-wedding activities and receptions. So receptions are still going to have to remain adequately sized.
August and September Weddings
You've probably already made your decisions on whether to move forward or to reschedule the wedding. If you live in a highly-populated area or outbreak spot, please consider postponing for the safety of yourselves, guests, and vendors.
If you're moving forward then consider holding everything outdoors. You'll also need to maintain social distancing, handwashing, disinfecting, and wearing face masks when possible. Please consider reducing guest lists to only close family and loved ones. You can also pivot to a microwedding and reschedule your reception later.
Fall Weddings
You only have a few weeks to make up your mind if you have not already done so. With lots of unknowns still up in the air regarding Phase 3 or NC's reopening, you will have to do what is right for you. If you're planning on rescheduling then you need to act fast to reserve your backup dates. Make sure contracts have some kind of COVID disclaimer to move deposits to new dates with a possibility of a third move. If you are postponing be sure to get your change-the-dates out quickly.
Since North Carolina has a fairly mild fall season, converting to outdoor events will be a great option if you're moving forward with your ceremony instead of postponing. If your indoor venue can erect an outdoor tent, that's a great option as well. The goal is to keep as many people outside as possible to slow any germs from spreading. You will still need to social distance yourselves, wear protective masks when you can, disinfect frequently, and provide handwashing stations.
Regardless of which direction you choose, please be aware that the pandemic situation is evolving and could change drastically in the weeks or months ahead. Try to make sure all of the vendors you are working with are flexible with rescheduling or postponing with COVID-specific language in the contracts.
Winter Weddings
Most experts are agreeing that postponing winter weddings or moving locations to warmer climates, where activities can be held outdoors, are the best choices for vigilant couples. Even though we do have what is considered to be mild winters in North Carolina, holding an outdoor ceremony can be really tricky getting the weather to cooperate. Even if you were to move your ceremony further south, most of the wedding destinations are now close to COVID hotspots. However, things could change for the better, or worse, in the coming months.
If you must move forward with your nuptials, try working with your venue to see if an outdoor tent can be erected. These can be easily heated and most are designed to provide better natural ventilation. If a tent cannot be provided, see what can be done about indoors social distancing measures, infection control, handwashing stations, etc.
If travel is deemed safe again, a destination wedding might also be a good idea for your needs. For this to happen quickly you'll need to work with a very experienced professional who is focused on safety and sanitation as well as destination wedding planning.
Whichever road you choose, please keep reassuring yourself that you will eventually get married. Your wedding day might not happen the way you want it to, but at least you'll have a great story to tell when you're older.
Award-Winning Raleigh Wedding Catering
All Raleigh catering companies are not the same. This is especially true if you're looking for a vendor that specializes in affordable pricing, great customer service, and fantastic flavors. Catering by Design is an award-winning Raleigh wedding catering company that is ready to help you with all of your needs. We're practicing all of CDC safety guidelines for catering during COVID-19 to ensure that you and your guests are well taken care of.
We've got affordable menus to fit any budget. You can also customize your catering menu with any family recipes or dietary restrictions. Brides will love our free menu tastings, something our competitors charge for. Please give us a call soon if you have any questions or would like to discuss our catering packages or delivery services.