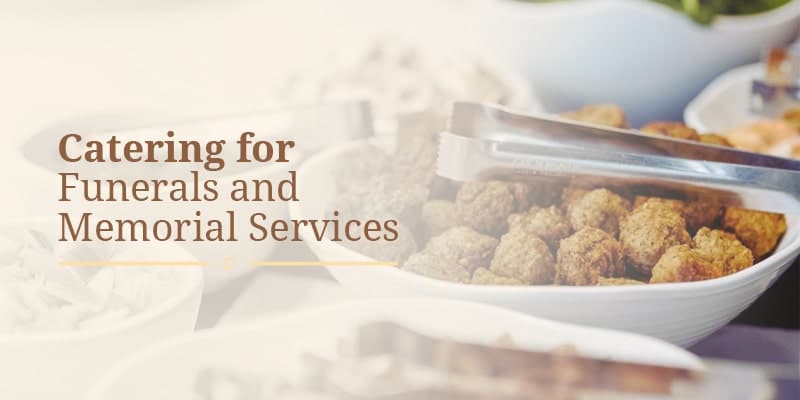 When planning a funeral or memorial service, Catering By Design can handle meals and refreshments. We give you everything you need to serve guests, friends and family members. We make it easy to provide delicious meals within your budget and time preferences.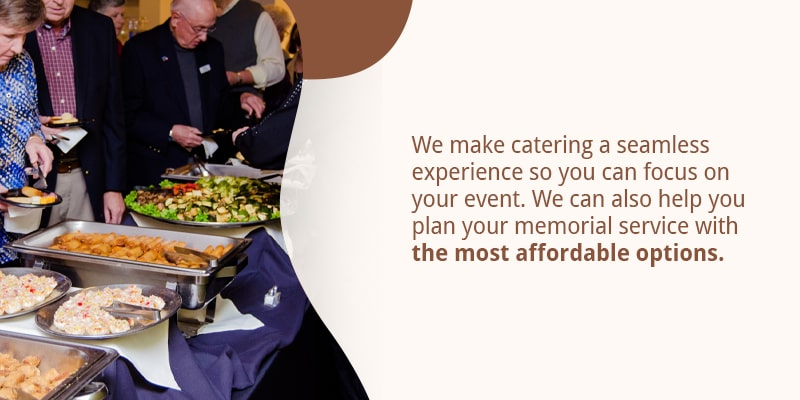 Our Memorial and Funeral Catering Services
We make catering for a funeral a seamless experience so you can focus on your event. We can also help you plan your memorial service with the most affordable options. Whether you want a full-service menu or a simple hors d'oeuvre plate for your guests, we can help.
Menus
We create elevated menus that pair delicious entrees and sides. If you want to focus on planning your memorial services, we have premade menu options, such as:
Brunch buffet
Backyard Picnic
Dinner buffet
Hors d'Oeuvre buffet
Unlike other caterers, we don't limit you to our menu selections. If you prefer to create your menu, we can walk you through our appetizer, side and entree options.
Plans
We have several catering service options you can choose from depending on your needs:
Pick-up: You can head to our main location in Cary, North Carolina, to pick up your catering supplies whenever you need them.
Delivery: We will deliver your food and materials right to your door. We ensure you have enough time to set up and prepare for guests.
Buffet: If you want a buffet-style dining experience, we have plenty of options. We will set up the supplies beforehand and return for cleanup once everyone has finished.
Full-service: If you want an elevated experience, we offer full table service as one catering option. We will serve your guests their plates and help create a beautiful memorial event.
Why Choose Us for Funeral Catering?
For over 20 years, Catering By Design has served numerous gatherings, from weddings, funerals and memorial services to office meetings. With our catering services, you can focus on your event and know we have the food handled. Plus, we can help the day of by setting up tables, organizing buffet lines and whatever you need to have a smooth experience.
Catering By Design proudly serves families, businesses and more throughout North Carolina. We create custom menus so you can accommodate preferences, allergies and dietary restrictions. Our chefs use only fine ingredients so you can enjoy a delicious meal and impress your guests. We even offer bar service for adult gatherings and venues.
Contact Catering By Design for Funeral Reception Catering
We can help you prepare for a memorial service with simple, prepared catering services. We will serve your guests delicious meals and help you spend time together. Contact us today to start planning your menu!