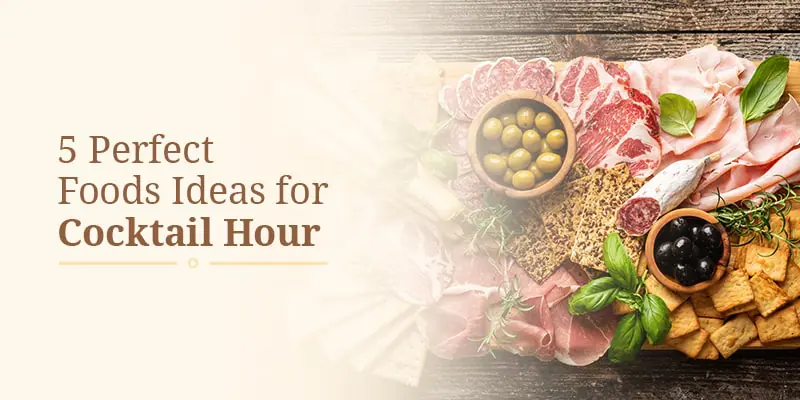 Your wedding's cocktail hour is the perfect time for your guests to mingle while the newlywed couple sneaks off to take pictures, regroup and talk about the ceremony and what you enjoyed. It's also the transitionary period between the marriage ceremony and the reception, so it's the best time to ease your guests into the menu of the day. Knowing what easy, mess-free food to serve at the cocktail hour will make this transitionary period smoother.
Check out these bite-sized ideas for your cocktail hour that will leave a good impression on your guests and leave them anticipating the rest of your menu.
1. Mini Pastries
Foods like tartlets and mini pastry pockets are a great versatile idea for serving at cocktail hours. With these tasty options that can be eaten in one bite, you get your choice of fillings that allows you to cater to guests' dietary restrictions or allergies. You can even get creative with the shape of the pastry and create showstoppers that don't require much fuss.
2. Skewer Foods
Any food you can serve on a stick is a cocktail hour staple. Skewer snacks are easy to create and the combinations are endless. From fresh fruit to marinated chicken or tofu, skewer foods are the perfect option for accommodating a range of preferences. These treats are one of the best ways to mix and match complementary ingredients.

3. Tapas
This Spanish classic is a great way to give your guests a variety of flavorful foods while keeping the serving size small. They also present guests with a choice between hot and cold foods depending on their preferences. If you have friends or family members with seafood allergies or dietary restrictions, you can easily leave out the prawns, olives or anything else. Tapas give you full control over an intricate and fancy cocktail hour menu.
4. Bruschetta and Crostini
Bruschetta is one of the easiest ways to serve a creative combination of foods while giving your guests a way to carry it easily. This dish is traditionally made with garlic, mozzarella and basil with a balsamic reduction — or you can break away from customs to suit your tastes.
Crostini offers the same freedom to create the menu you want. You can add whatever you like to toasted crusty bread and make visually appealing finger food.
5. Charcuterie Boards
If you want to give your guests more autonomy over their food options, you can create a variety of cheese boards. You can even offer a choice between classic pairings like cold meats, fruit jams with crackers or vegan cheeses and gluten-free crackers. This option is a low-maintenance food choice that you can decorate with embellishments to ensure it fits your wedding theme.
Order Your Cocktail Hour Choice Today
Whether you're feeling inspired by our list or have ideas of your own, Catering By Design is ready to make your wedding catering dreams come true. With over 20 years of experience serving delicious food for events in the Raleigh-Durham area, we're happy to cover your wedding's cocktail hour menu.
Contact us today to learn more about the flavorful and impressive food we'll serve at your wedding!