The autumn season is right around the corner, and it's by far my favorite wedding season. Not only do brides and grooms have many options for locations, decor, and colors, the food might be one of the best parts of the planning … and I-doing!
Fall brings a lot of attention to the tastes of pumpkin everything, and don't get me wrong – I love it. However, today's post is going to focus on another fall favorite, caramel apples. When I think of caramel apples, I automatically think of fall. After all, making these treats has been an October family favorite of ours for years. That's why I did a little research to see if this treat was a big hit at weddings and the answer was a resounding yes! Here's why!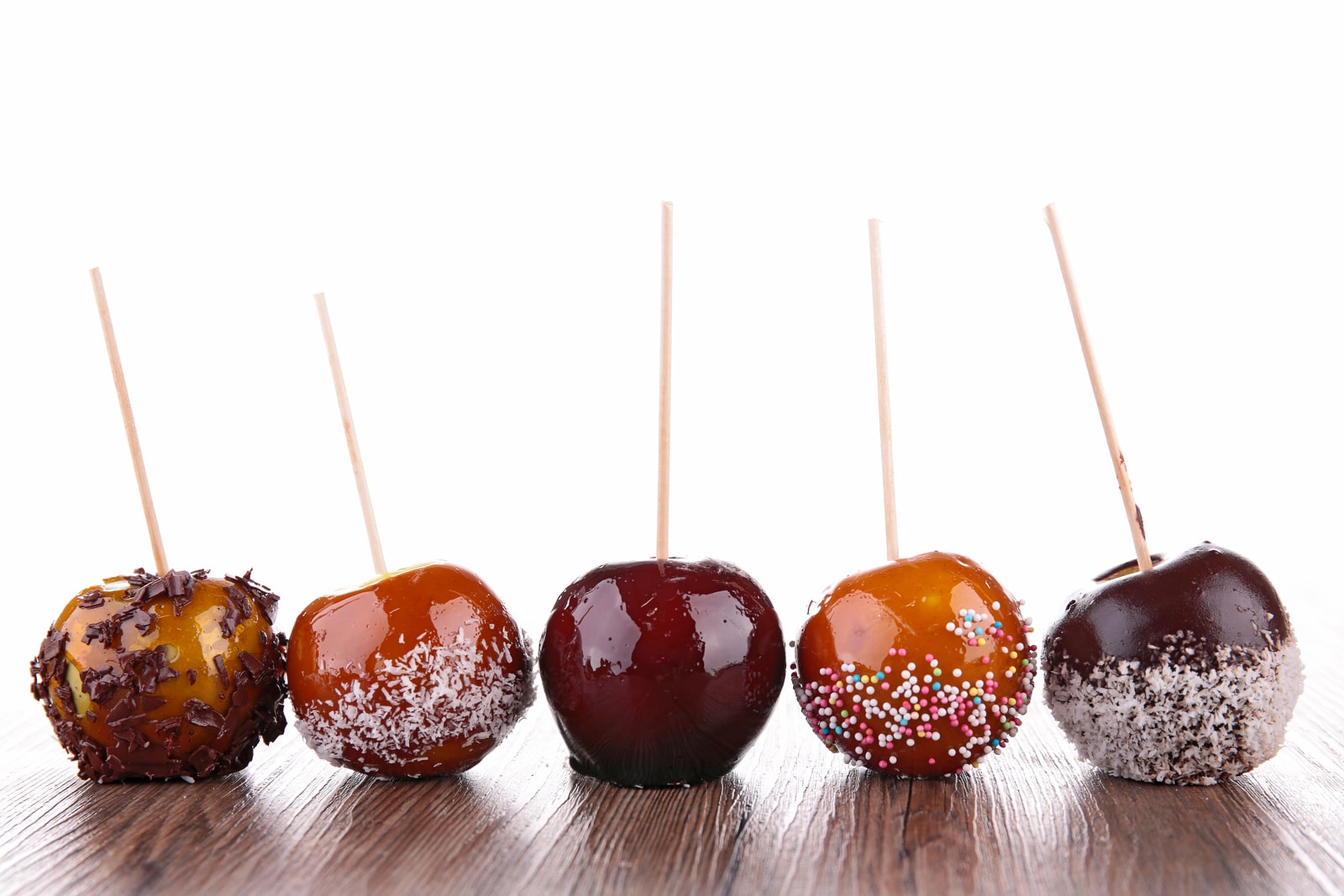 Caramel Apples and Autumn Weddings
For starters, having caramel apples at your autumn wedding is a great idea because they can be a fun and inexpensive DIY project for you and your bridesmaids. You can make these, with various toppings, and wrap them up for take home gifts for your wedding guests to enjoy later. You can also incorporate your seating card with this idea and take care of two needs with one trick. Think about how amazed and excited your guests will be when they show up to the reception and find a gourmet style caramel apple for them to take home? I know I would be.
Caramel apples also make for a great reception treat for part of the dessert options. This is a great alternative to the standard cupcake and wedding cake. You can prepare them ahead of time or ask your Raleigh wedding catering company if they can create an interactive caramel apple dipping bar. You can set up several different topping stations with different nuts, graham crackers, sprinkles, and chocolate so your guests can customize their own. Not to mention, the kids will love this idea.
Finally, you do not have to stop at just using caramel to dip your apples in, you have other options as well. If you really love this idea then you can go all out and get other dipping stations to cover your apples such as chocolate and candy.
Caramel apples and the fall season just go hand-in-hand! This idea will definitely set your wedding apart from all the rest this season as well. Just know that it could get a little messy, but messy can sometimes be a lot of fun!
Award Winning Raleigh Wedding Catering – Catering By Design
If you want the finest dining experience for your wedding call Catering By Design. We offer the most affordable Raleigh wedding catering in the Triangle. Call us to learn more and ask about our free menu tastings. This is a free service that most of our competitors charge for.
Don't need full service catering? Ask about our delivery services! When you're ready to work with the best of the Raleigh wedding catering companies, we'll be waiting to answer your call with a smile!