The Wedding Website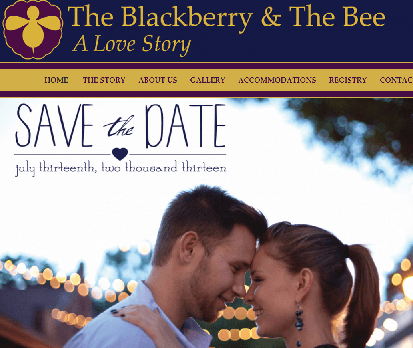 As social media platforms continue to expand and evolve, it should be no surprise at how they are merging into the personal lives of the people who use them.
The point of social media is to connect people to others around them and help simply the lives of the users. Planning a wedding is arguably the most romantic, personal, and stressful life experience a person can endure.
So how has the world of social media collided with modern wedding planning? The perfect example would be the new trend of personalized wedding websites and blogs.
Planning a modern wedding is no easy task. The average couple is doing all of the planning themselves, so with the help of a personalized wedding website they can easily communicate with guests the details about gift registries, accommodations for the ceremony, or share engagement photos.
My friends Skye and Jonathan Hakes got married this July. They personalized their own site using WordPress, and the result was fantastic. By personalizing their story, titled "The Blackberry & The Bee," Skye and Jonathan were able to share their love story to the guests and create an organized method of distributing important information. Their site had appropriately labeled pages such as "The Story," "About Us," "Registry," a photo gallery, and contact information. Guests of the wedding were mailed beforehand an invitation that directed them to the site as well. The site looked well designed and fun, but it also made accessing the gift registries very easy.
Skye and Jonathan shared the inspiration for the wedding and described their themes as hipster and woodsy, which was perfect for a modern outdoor wedding. The guests also gave great feedback about the site and how user friendly it was. People enjoyed how personalized it was (they wrote their own love story), the convenience of being able to access it from anywhere, and the overall functionality of the site. The happy couple loved being able to reflect their own personal style and creativity for their guests to see. It allowed them to bring the guests into their exciting engagement long before the actual wedding day.
By finding inspiration online or in magazines, any couple can create their own unique website to share the details of their big day. The websites allow guests to share the excitement of the engagement with the couple, even if they are geographically distanced. Lastly, this method is tasteful and creative, but also more budget friendly and effective for today's world. Consider adding some modern twists to your wedding planning, and create your own distinct wedding page to share.
Here are some online sites where you can create your own Wedding Website:
For an overview of some of these sites and a couple more, see the February 2013 Mashable post on Wedding Websites.
Check out Skye and Jonathan's Wedding Page below
The Blackberry and the Bee
–Guest Post by Chelsea Holland