Catering by Design is a full service caterer, and having been in business as Catering by Design for over 13 years in the Raleigh area, we know all kinds of amenities and service providers. We can recommend photographers, bakers, wedding venues, ball rooms, games, DJs, Photo Booths, florists, and even local spas for bridal party spa days.
Bridal Party Spa Days
Weddings are one of three major times in a family when families gather from a far. Family members who see each other rarely want to do things together to prepare for the wedding, and afterwards to unwind and enjoy each others' company.
Bridal Party Spa Days are one very popular way for the women in a family to spend quality and fun time together.
Before the Wedding
Spa Days for the Bridal Party before the wedding are focused on sharing the excitement, and prettying-up for the wedding to come.
Services include:
Pedicures
Manicures
Nail Polish
Facials
Make-Up
Sometimes a Hair Stylist is involved in readying the Bride's and her wedding party's hair styles.
The opportunity to sit together and visit while receiving a service that relaxes and beautifies is both delightful and makes a wonderful memory to look back on.
After the Wedding
After the wedding, often the bride and groom, now husband and wife, have moved onto their honey moon, while relatives may still be around and wanting to visit.
Bridal Party Spa Days after the wedding may involve more body treatments:
Sugar or Salt Scrubs
Swedish Massage
Deep Tissue Massage
Tandem Massages (two at a time, not just for couples, also for family members and friends)
Pedicures again, perhaps with Reflexology
Sauna
After the wedding bridal party spa days are a chance to unwind after all the excitement; to savor it.
There are many choices for bridal party spa days in the greater Raleigh area. Let's look briefly at one privately owned, unique, local spa.
Spa at Bell House
Spa at Bell House is a charming and elegant spa in the historic and delightful town of Pittsboro within 30 minutes of Raleigh, Durham, RTP, Cary and Chapel Hill.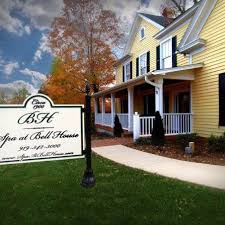 They design bridal party spa days to fit your specific wishes, delights and needs.
The Spa is located on Salisbury Street, past Cafe Diem. It's the 2nd house on the right. This classic house with soft yellow siding and a pretty front porch has parking in the rear, or on the street. Enter by the front door or the back, either way you will be opening a door with original stained glass and stepping into another world. The light. The decor. The light scent from quality candles.
Spa Bridal Services
Other Spas which may offer Bridal Services are located throughout the Triangle area:
Fearrington Village, Cary, Apex and Raleigh, Durham and Chapel Hill towns.
Surprisingly at the time of this post, The Umstead Spa didn't specifically list Bridal Party Spa Services, even though they are clearly one of the most beautiful spa settings east of The Spa at Asheville's Grove Park Inn which is an extraordinary setting both inside and out, which hosts wedding events like the Grove Park Inn does. But, unless you're getting married in Asheville, the bridal party spa day will have to be closer to your ceremony location.
—
Catering by Design can be a tremendous resource for you in planning your wedding, especially if you're new to town and haven't built familiarity with local photographers, wedding cake makers, spas, venues, make-up artists, DJs, musicians… the list goes on. Let us help you have the time of your life at your wedding. Call 919-481-2366. Let's start working together today.