Well-known Triangle businesswoman Sheila Ogle, owner of The Matthews House wedding and event facility in Cary, has merged her catering business with another well-known Triangle catering company, Catering By Design.
The deal, says Cary's Catering By Design owner Phillip Lin, will merge the staffs of his company with the staff of The Matthews House, Basil & Thyme Catering group and the Patisserie bakery.
"Since I purchased Catering by Design in 2013, my goal has been to grow an on-site catering division," Lin says. "I needed a venue first, and The Matthews House provides that opportunity. It's the most sophisticated events destination in the Triangle."
Both companies will retain their respective identities for now, and all staff will remain in place. Terms of the deal were not disclosed.
The Matthews House employs seven full-time employees, and Catering By Design employs 12 people full time with part-time servers on call as needed.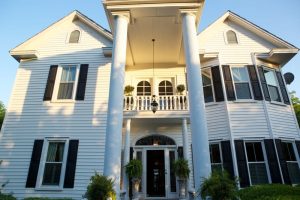 Ogle will continue to be active in the community promoting The Matthews House and Catering By Design, Lin says.
Ogle opened The Matthews House with her late husband, Carroll Ogle, after purchasing the circa 1915 house in 2001. Carroll Ogle died in July at age 86.
The 3,500-square-foot Matthews House, which also has a 2,100-square-foot ballroom facility attached, hosts an average 500 events a year for local wedding, social and corporate functions.