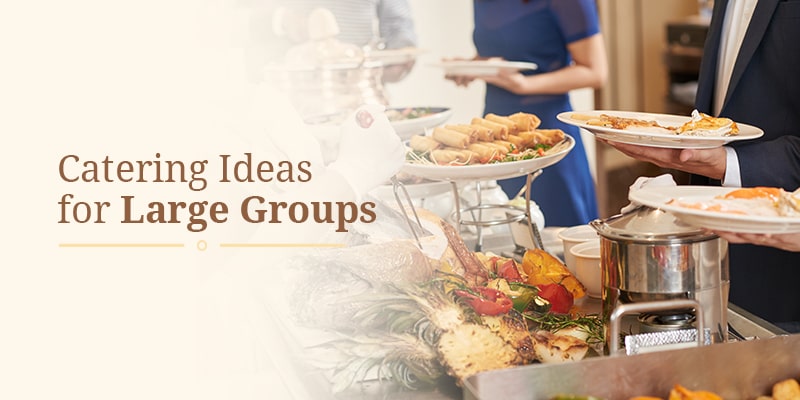 Catering Ideas for Large Groups
Events are great ways for people to come together and celebrate. Ensuring your event is a success and enjoyed by all is a challenge, especially when catering for many people and dietary requirements. Our team of professionals wants to help, so we compiled ideas for catering for large groups to ensure everything food-wise for your event goes smoothly.
Catering Service Tips for Large Groups
Catering is one of the most important parts of hosting the perfect event. To make sure your gathering happens without a hitch:
Plan and get the numbers: Catering successfully for a large group takes planning, skill and knowing how many people are attending.
Set your budget: Your budget will dictate your menu options, the style of your event and what you can serve, so it's critical to set an amount early.
Create a schedule: This element is important because your catering will depend on the order of events — food and refreshments are often planned around formalities like speeches and awards.
Decide on the service style: Choosing whether you want to go with a formal plated table service or a buffet-type style is crucial.
Select menus: Picking menus will help you finalize other vital event elements. Menus set the tone, formality and even theme of your function.
Confirm dietary requirements: Over 56 million people in the U.S. have dietary restrictions, so checking your guests' needs is vital when catering for large groups.
Provide extra food: It's a good idea to have more food than you need in case a few additional people attend. Professional caterers can guide you on these details.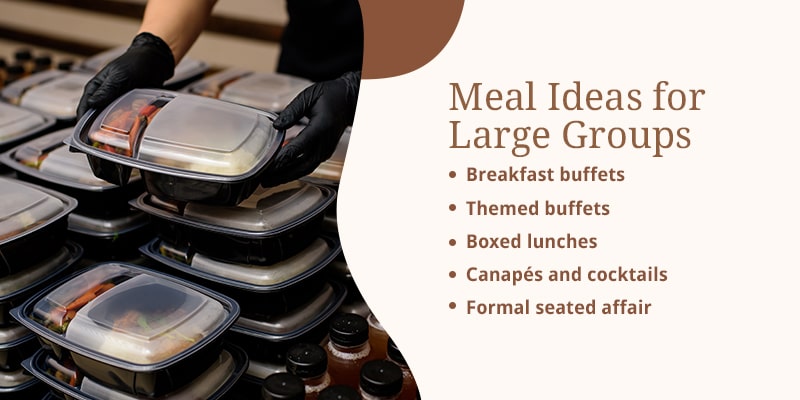 Meal Ideas for Large Groups
Catering for a large group and deciding on menus can be challenging. With seasoned experts like Catering By Design, selecting themes and catering menus for large groups is straightforward. We offer several meal options, including:
Breakfast buffets: Choose between various breakfast options, from fluffy and fruity to all-American breakfast buffets.
Themed buffets: Themed menus, including Southern-style, Italian, far East, tropical, Caribbean and Mardi Gras, are perfect crowd pleasers.
Boxed lunches: Boxed lunches are popular for large group catering and picnic-style events.
Canapés and cocktails: Go formal and add pizzazz by choosing a cocktail event with butler service.
Formal seated affair: We recommend plated food service to create the ultimate dinners and galas.
Get the Best Catering for Large Groups Across the Raleigh-Durham Area
Do you need a catering service for large groups? Catering By Design has competitive pricing, an extensive corporate menu and over 20 years of experience. Feel free to select from our established menus or completely customize the experience for your guests. We provide food preparation, delivery, presentation and cleanup for any event or party.
Contact us online to place an order or have a free consultation.