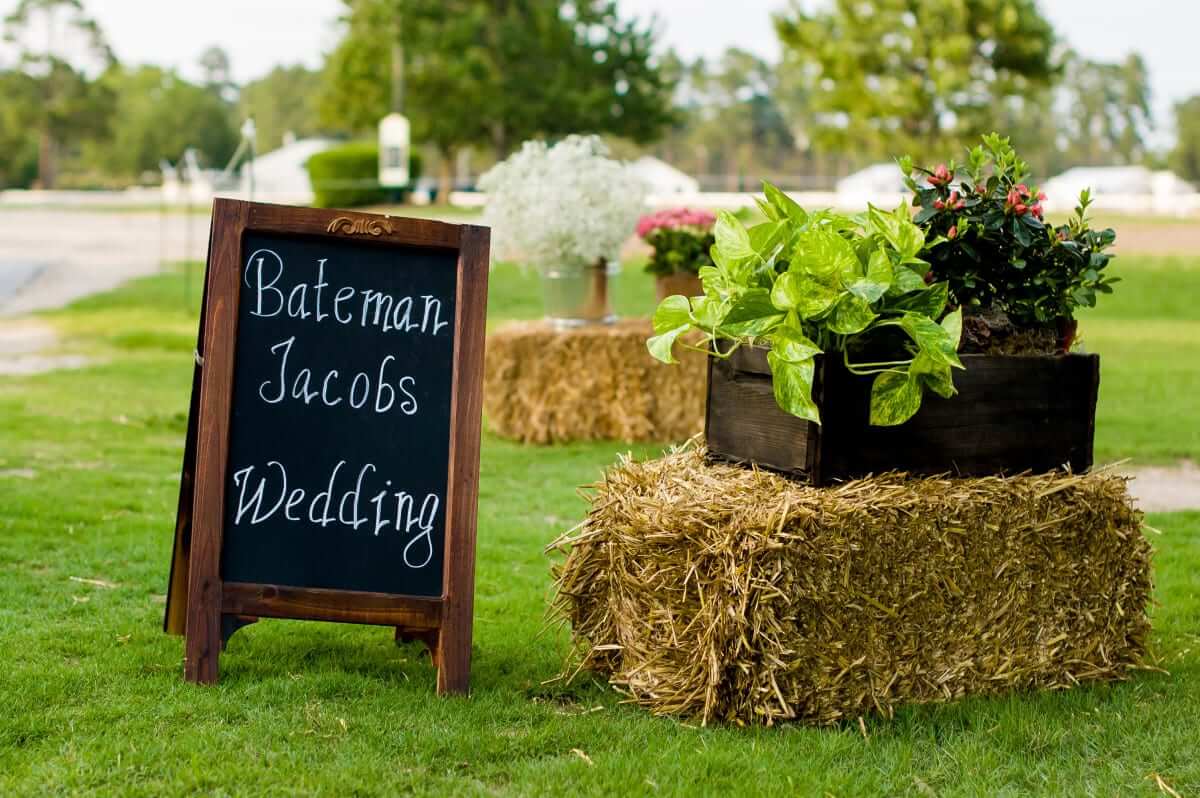 Fair Barn Wedding Highlights | Pinehurst Wedding Catering
The Fair Barn is the oldest surviving early twentieth-century fair exhibition hall in North Carolina. It was built in 1917 for use at the Sandhills Fair. This used to be one of the major country fairs in the Southeast from 1915 through 1925.
The Fair Barn has been recently restored and is now a multi-purpose community gathering place for exhibitions, receptions, private parties, auctions, educational clinics, business seminars, concerts, art and antique shows, and many other functions. It is located within the confines of the Pinehurst Harness Track. The original 56 acre track complex is the oldest continuously operating equine sports facility in North Carolina and provides a wonderful backdrop for a country wedding.
Catering by Design was honored to provide the Pinehurst wedding catering for the reception at a recent event. We wanted to share a few of our favorite pictures from this beautiful summer wedding. We took so many it was really hard to choose so to see the entire gallery, you'll have to visit us on Pinterest.
For the reception, the wedding guests were greeted with colorful place settings and antique china. The adults were also gifted with koozies, that commemorated the wedding, to take home and enjoy for the rest of the summer.
To really play on the rustic feel of the barn, the bride and groom used a series of antique windows to list the Pinehurst wedding catering menu, as well as other aged windows for the seating chart.
The Butlered Hors d' Oeuvres started out with a Pinehurst wedding catering favorite, our signature Fried Green Tomatoes with Roasted Sweet Pepper Aioli. Above, we featured a summertime classic, Caprese Skewers. These consist of delicious Skewered Mozzarella, Basil and Tomato with a Balsamic Drizzle.
Stationed Hors d' Oeuvres were served outside for Cocktail Hour. The guests enjoyed an assortment of Imported and Domestic Cheeses with Gourmet Crackers. A Sliced Seasonal Fruit Tray was paired with the cheese and crackers.
Family Style
After the wedding introductions, dinner was served in two courses, family style. The meal started off with a summer salad of Romaine with Strawberries, Mandarin Oranges, Pecans, and Feta Cheese finished with a light Basil Balsamic Dressing. The salad was paired with Corn Bread, Biscuits and Butter.
Featured above is course one. It consisted of Buttermilk Fried Chicken, Golden Brown Waffles and Maple Syrup. We paired these with Grilled Green Beans.
Course two featured Shrimp and Grits. We mixed them with Bacon and Shredded Cheese and sprinkled Fresh Scallions as a colorful topping. The shrimp and grits were served with Sautéed Squash, Onions and Zucchini.
For dessert, the guests were treated to a popular 2014 wedding trend, finger foods. The guests were able to enjoy an array of pie bites and miniature fruit tarts.
A chocolate cupcake tower was a huge hit with everyone. It was fun to watch the kids dash to be first. Everyone had their sweet tooth satisfied.
Probably the biggest hit of all was the photo booth. This wedding had a lot of children in attendance, so there needed to be something to entertain them and the adults. Along with the photo booth there was a dress up table full of silly hats and glasses, boas, wands and scepters, and other goofy accessories which created reception fun for everyone.
We love being able to serve such wonderful families and be a part of these big days and life changing events. If you need the very best in Pinehurst wedding catering, please consider Catering by Design. Our wedding menus can fit any budget and we offer free tastings. Call us today or just drop by our kitchen.