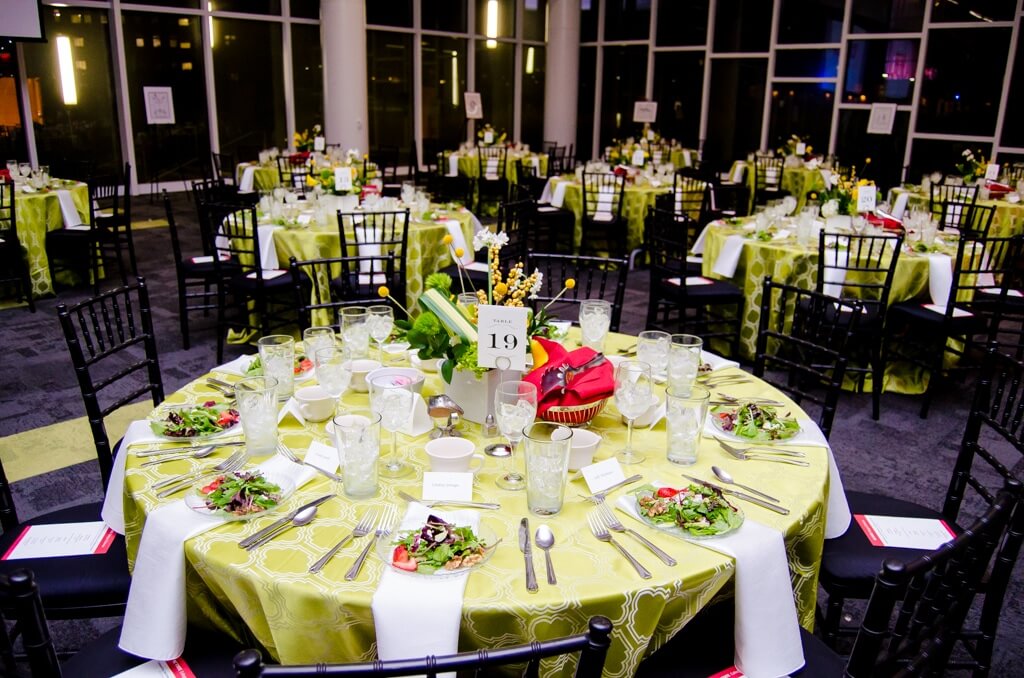 At North Carolina State, The College of Sciences makes the university a top choice for students looking for diversity and high-performance, as well as expert faculty and researchers from all over the world. The department is committed to solving some of society's biggest problems that affect the way we live.
The University's College of Sciences recently held an appreciation dinner at the amazing Hunt Library to honor the donors and gift givers that help deserving students reach their potential. These donors adopt a student and help them throughout their career at NCSU as long as they continue to meet qualifying metrics – a great opportunity for certain students. This event also allows these students to finally get a chance to meet their sponsors and thank them for their charity and generosity.
We had the great pleasure of providing the food and service for the College of Science's big "Thank You" dinner and we wanted to share a few of our favorite pictures! If you want to see the entire gallery from this big event, click here to visit our Pinterest page.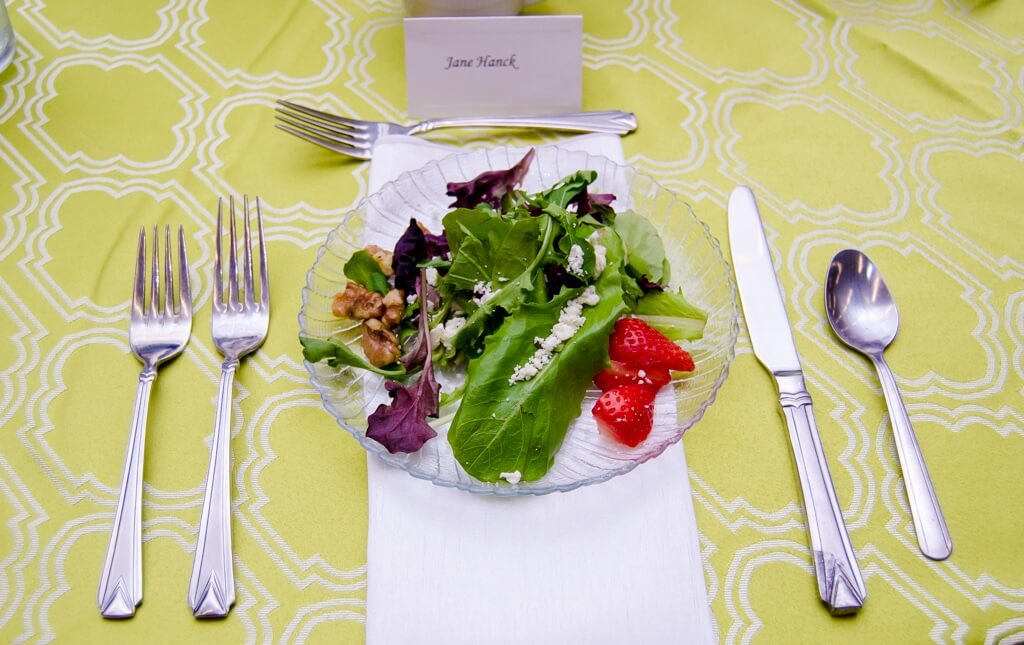 As the guests made their way into the banquet hall, they were greeted with a beautiful presentation of bright colors, flowers, and gorgeous table settings. Each table was pre-set with an assortment of freshly baked rolls, butter, and beverages. As the guests were seated, they were served a salad of Baby Greens with Fresh Strawberries, Feta Cheese and Candied Walnuts that was finished off with a Basil Vinaigrette Dressing.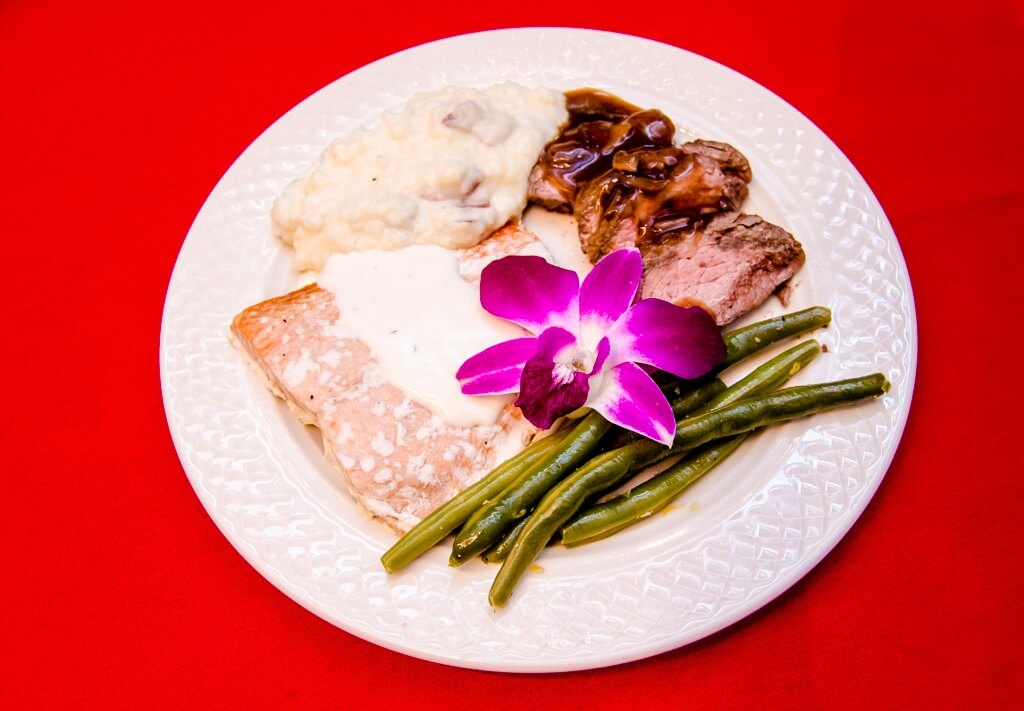 For the main course, the guests enjoyed a plated combo meal of Sliced Beef Medallions topped with a Chianti Mushroom Sauce and served with Red Skin Mashed Potatoes or Salmon topped with a Dill Cream Sauce and served with Fresh Green Beans with Garlic and Lemon Zest. Not pictured was a vegetarian option that consisted of a hearty Tomato, Basil and Gouda Stuffed Portobello Steak that was also served with Red Skin Mashed Potatoes and Fresh Green Beans with Garlic and Lemon Zest.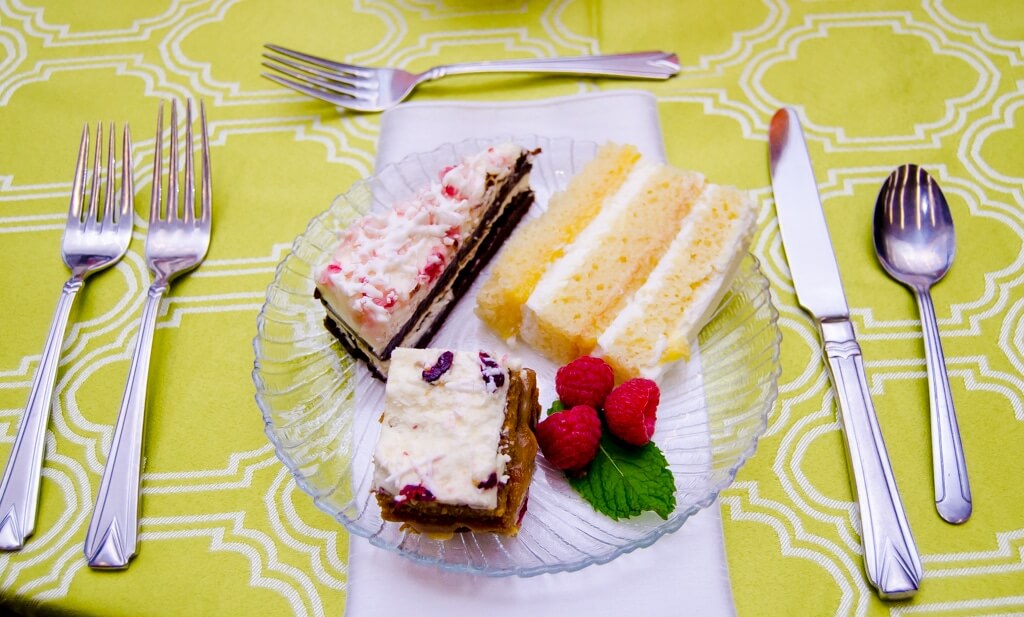 The Dessert Trio Flight won everyone over! This lovely arrangement consisted of Pumpkin Cranberry Cake With Pumpkin Cheesecake and Tart Cranberries, Chocolate Cake with Peppermint Mousse Topped with White Chocolate Ganache, and a Lemon Shortcake with Tangy Lemon Preserve Topped with Whipped Cream. Outstanding!
Affordable Raleigh Business Catering for the Holidays| Catering by Design
Catering by Design is the number one source for all of your Raleigh business catering needs. We make your event easy since we do all the work. Call now and ask about our holiday specials and delivery service. We've got the best menus for any of your catering needs. From university dinners, corporate events, and awards banquets, to weddings, anniversary parties and holiday gatherings, Catering by Design will ensure your food and fun is top shelf quality. We've been serving up smiles to people all over North Carolina for decades. Please give us a call today to learn more about why we're the number one choice for Raleigh business catering services!