Tis' the season to eat well and be merry! There is nothing like celebrating the holidays by standing under the mistletoe, gift giving, volunteering your time, and preparing delicious meals for family and friends. If you want to avoid some stressful situations, or dinner drama this year, then you'll love today's topic!
We've searched the internet, high and low, to find some awesome ideas that you can use over the new few weeks! We've even included a few of the recipes as well, so get out your meal planner and get ready to make a grocery list that will bring joy to each table you set! Searching for Raleigh caterers for the holidays? Call Catering by Design and find out why we're number one in the Triangle!
The Classic Christmas Dinner
This idea gives a new twist to what most would consider a classic Christmas dinner. We've chosen this dinner menu to include a rack of lamb, fennel salad, onion pie, and pumpkin cream tarts for dessert!
Main Course: Cherry-and-Port-Glazed Rack of Lamb
Side Dishes: Either a Fennel, Orange, or Olive Salad, Onion Pie or even Loaded Baked Potatoes
Dessert: Pumpkin Cream Tarts with Candied Cranberries
Drink: Pomegranate Apple Cocktails, or Hard Apple Cider
Dinner Party on a Budget
Do you want to host your friends or family this year, but not break your bank? Maybe you want to have a budget friendly game watching party to celebrate your college team making a bowl. We've found a wallet pleasing, super tasty, crowd friendly appetizer menu that is simple, fun, and easy to prepare!
Appetizers: Roasted Winter Squash Soup
Pigs in Blankets
Pulled Pork in Biscuit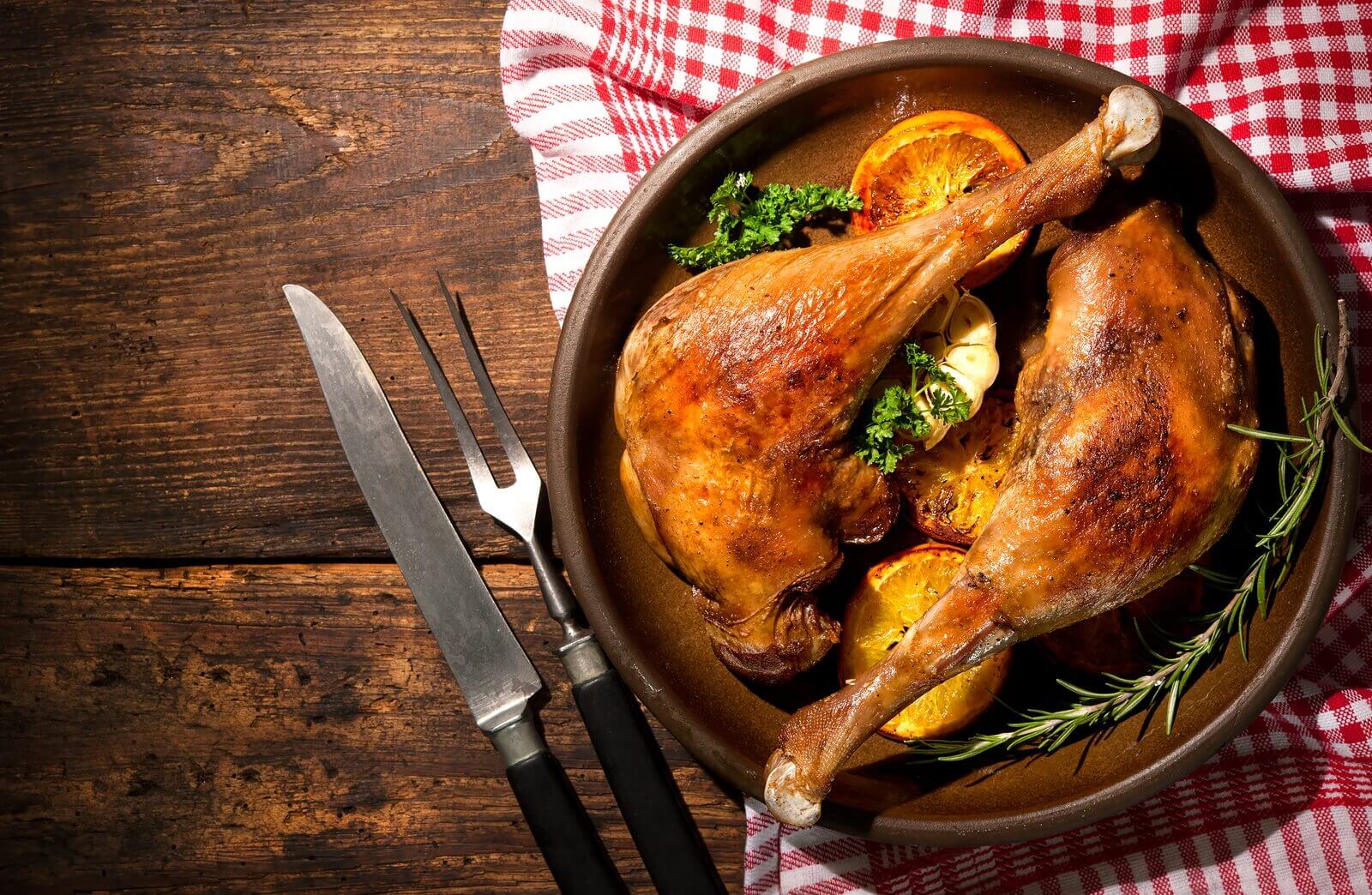 Rustic French Christmas
Growing up in France, eating goose on Christmas Eve might have been a family favorite. Here is a menu with traditional French holiday food, beginning with the goose.
Main Course: Roasted Goose with Crispy Skin
Side Dishes: French Country-Style Peas
and Candied Yams
Dessert :Pain d'Epices
Drink: A voluptuous Pinot Noir
Hearty Meat and Potatoes Dinner
Do you have some hungry men in your family? If you so, you cannot go wrong with this hearty and homey meal. This new take on comfort fool even smells wonderful as it comes out of the oven on Christmas Day!
Main Course: Coffee-Crusted Beef Tenderloin
Side Dishes: Roasted Spinach Salad with Raspberry Walnut Vinaigrette and Garlic Potatoes
Dessert: Molten Chocolate Cake, or Cherry Cheesecake
Drink: Red Wines like Cabernet Sauvignon and Merlot
Searching for Top Rated Raleigh Caterers for the Holidays? Call Catering by Design!
Do you want to relax and enjoy the holiday season this year? If so, call the experts at Catering by Design! We're number one when you're searching for Raleigh caterers. Catering by Design offers the best holiday catering packages in the Triangle. Just take a look at our holiday menus for an idea of selections. If you find that we're missing something, just let us know as all of our menus can be fully customized for your dietary needs. We're one of the highest rated Raleigh caterers for all of your Christmas and other holiday needs. If you do not need full service catering, ask us about our delivery options. We can simply deliver your meal to your location, set everything up and then leave after you're satisfied! This is a great budget friendly option for holiday catering needs.
Please give us a call today to learn more, or to schedule service.