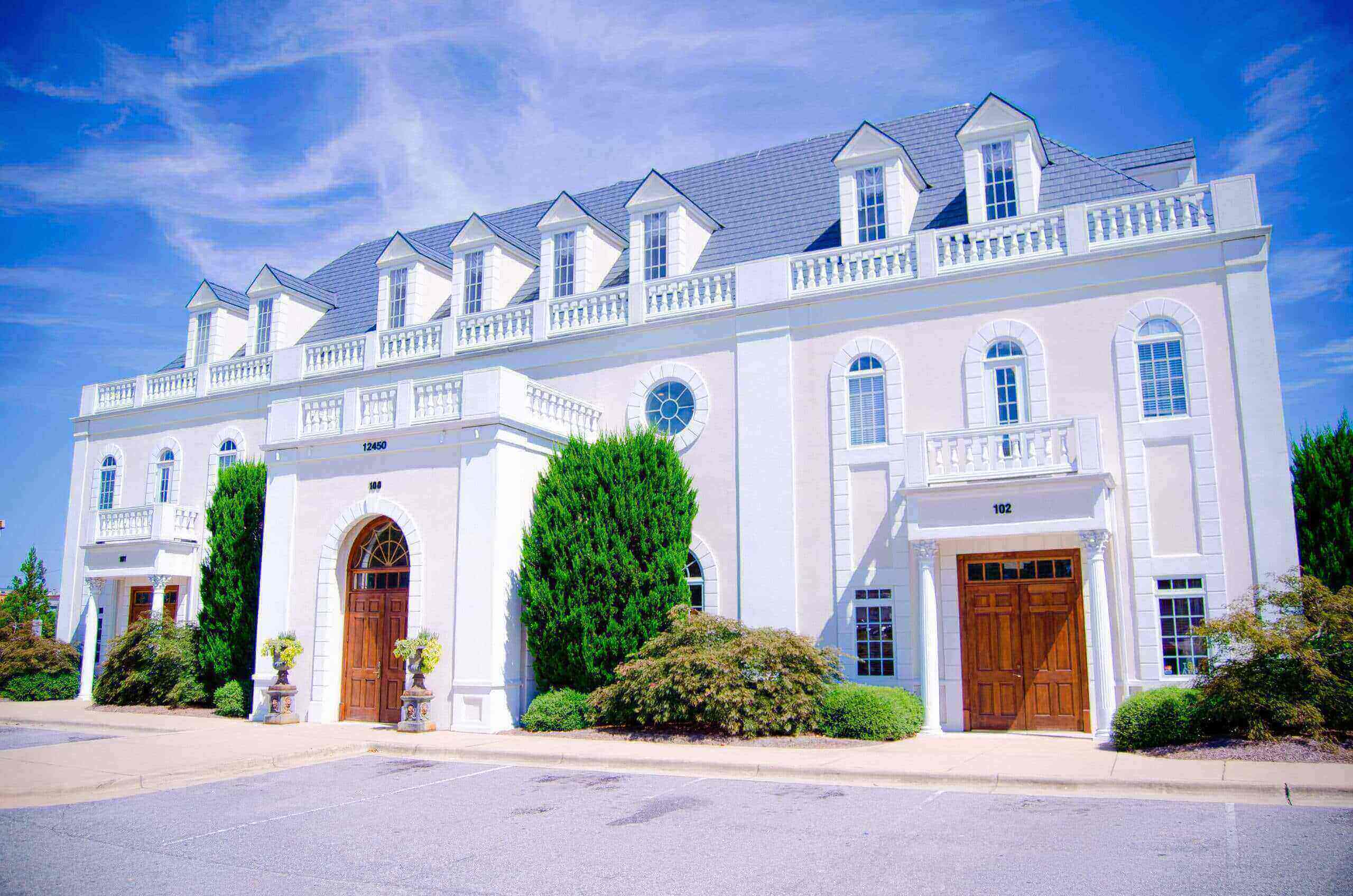 The Hall & Gardens at Landmark is located in Garner, NC, just minutes from downtown Raleigh. It's the perfect space for your next event. Whether you're in need of ballroom for an award ceremony, a private area for a corporate meeting, or even a beautiful wedding and reception venue, this is the place you want to be.
For brides and grooms, the Hall and Gardens offers a magical opportunity to start their new lives off with happy memories that will last a lifetime. The Marie Antoinette Grand Salon Ballroom features carved and gilded trim, 22 window seats, a separate buffet room apart from the main Ballroom, six opulent chandeliers set in faux-painted trey ceilings, and even a state-of-the-art sound system.

You'll even find a Cigar Lounge and Groom's Den, as well as a beautiful Bride's Parlor and Lounge located in the main building by the Ballroom.
We recently catered a luncheon at The Hall and Gardens at Landmark, and wanted to share a few of our favorite pictures from the event. If you want to see all the images, please visit our Pinterest gallery. If you're searching for affordable Raleigh corporate catering, or wedding and reception catering, look no further than Catering by Design. Call us today with questions about service or delivery.
[metaslider id=10132]
The Hall And Gardens At Landmark in Garner, NC
For today's luncheon, we had an indoor cookout. We served up burgers and hot dogs with all the trimmings. We wanted everything to feel just like your own backyard BBQ.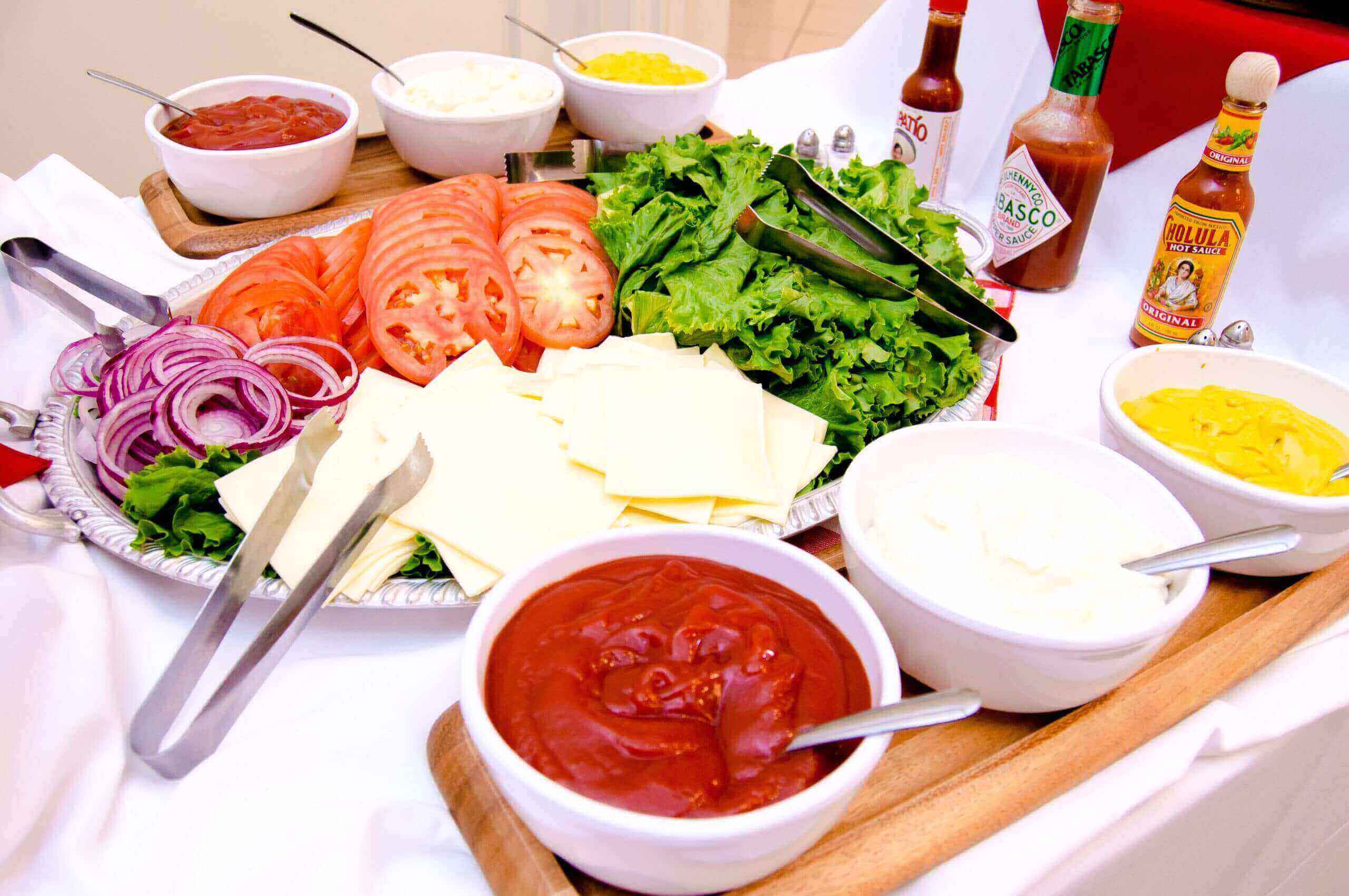 For the burgers and hot dogs, we had a fresh tray of Lettuce, Tomato, Onions and Cheese, with Ketchup, Mustard, and Mayonnaise on the side. And eating hot dogs in North Carolina isn't complete without having Chili, Slaw, and Hot Sauce too.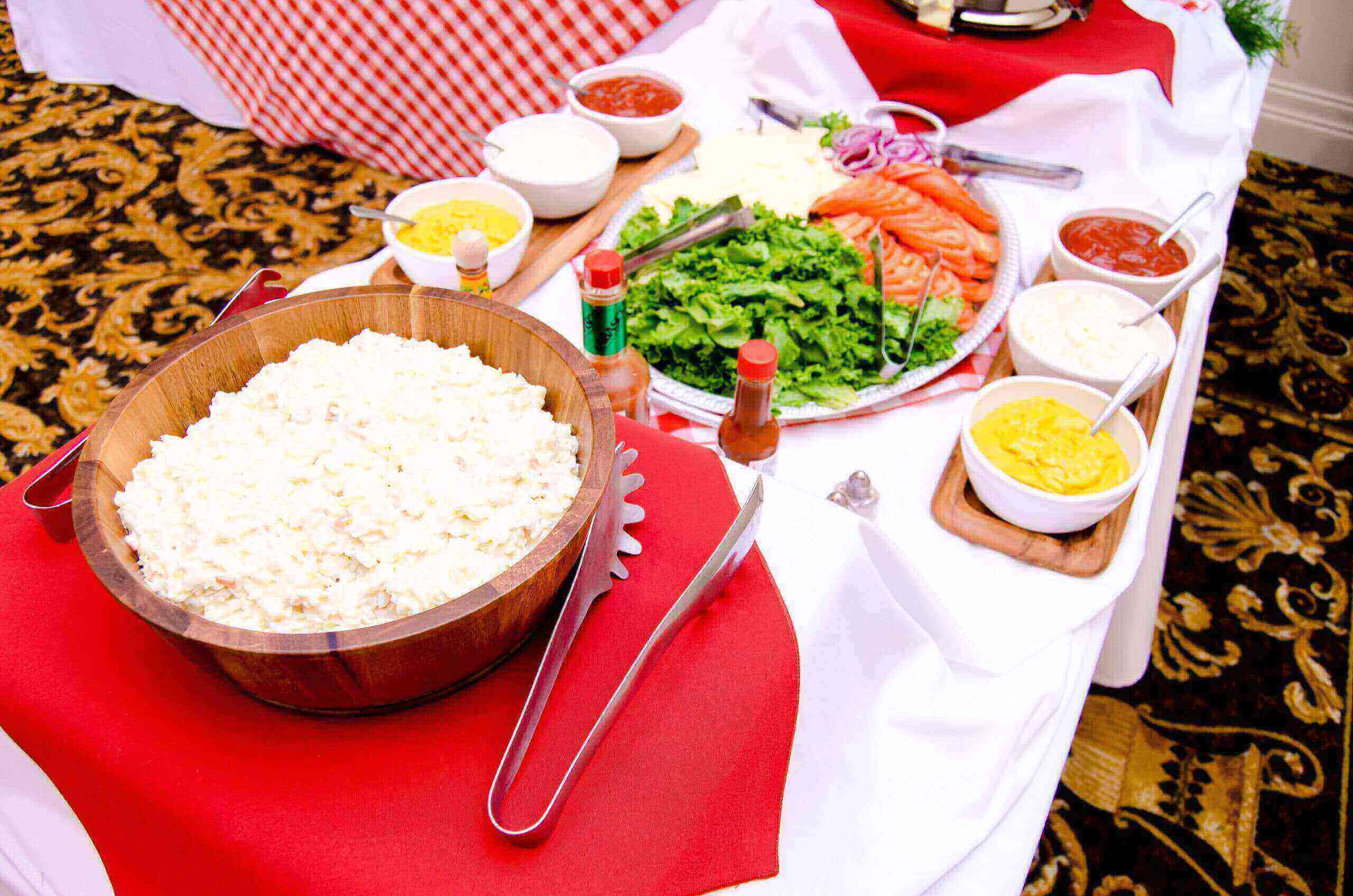 The sides featured homemade Red Skin Potato Salad and Baked Beans. For dessert, guests enjoyed a Fresh Fruit Salad, Fudge Brownies, and Chocolate Chip Cookies.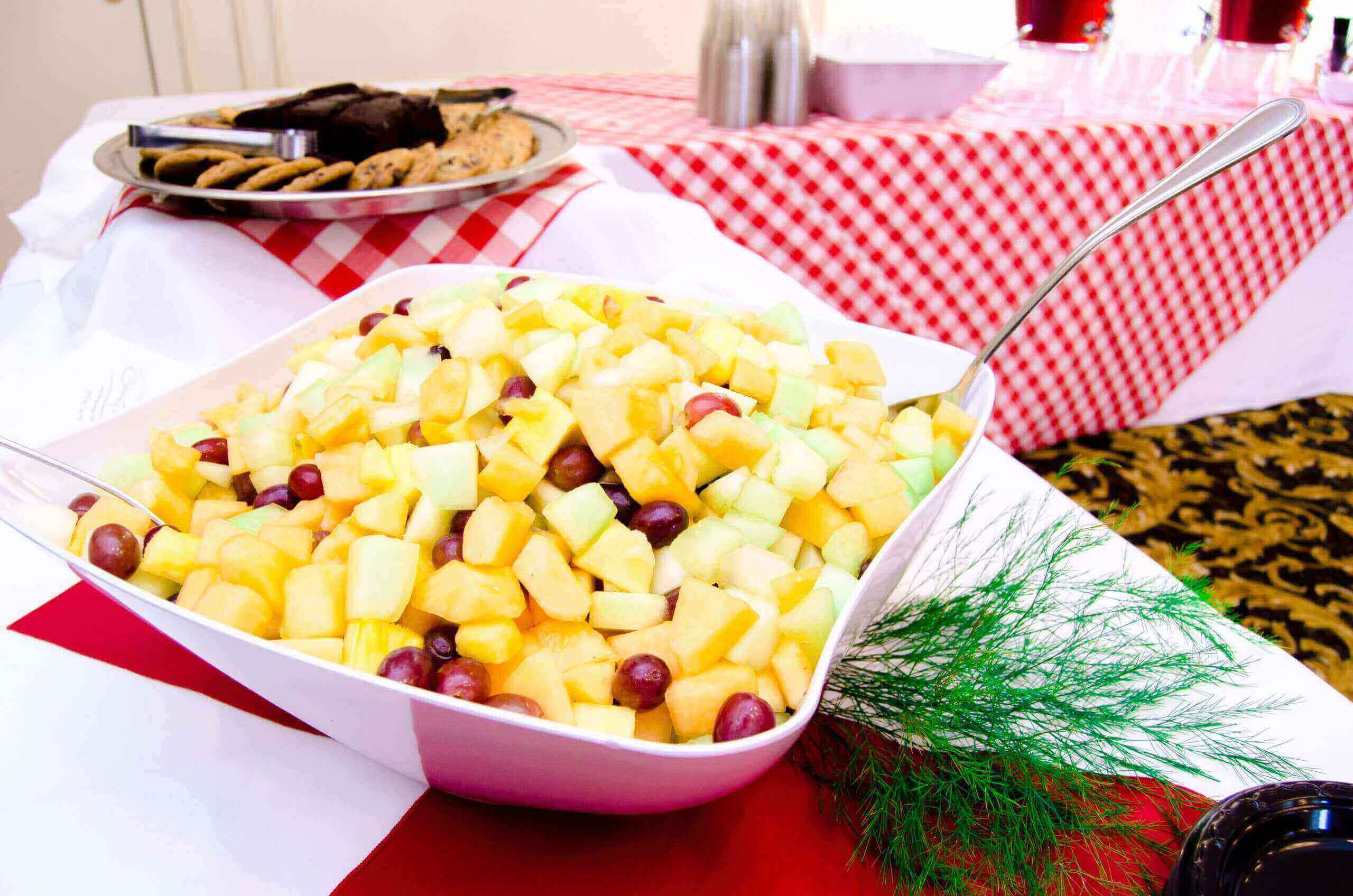 The Beautiful Gardens
Since we've done most of the talking about the inside, let's talk about a little about how gorgeous the outside of the property is.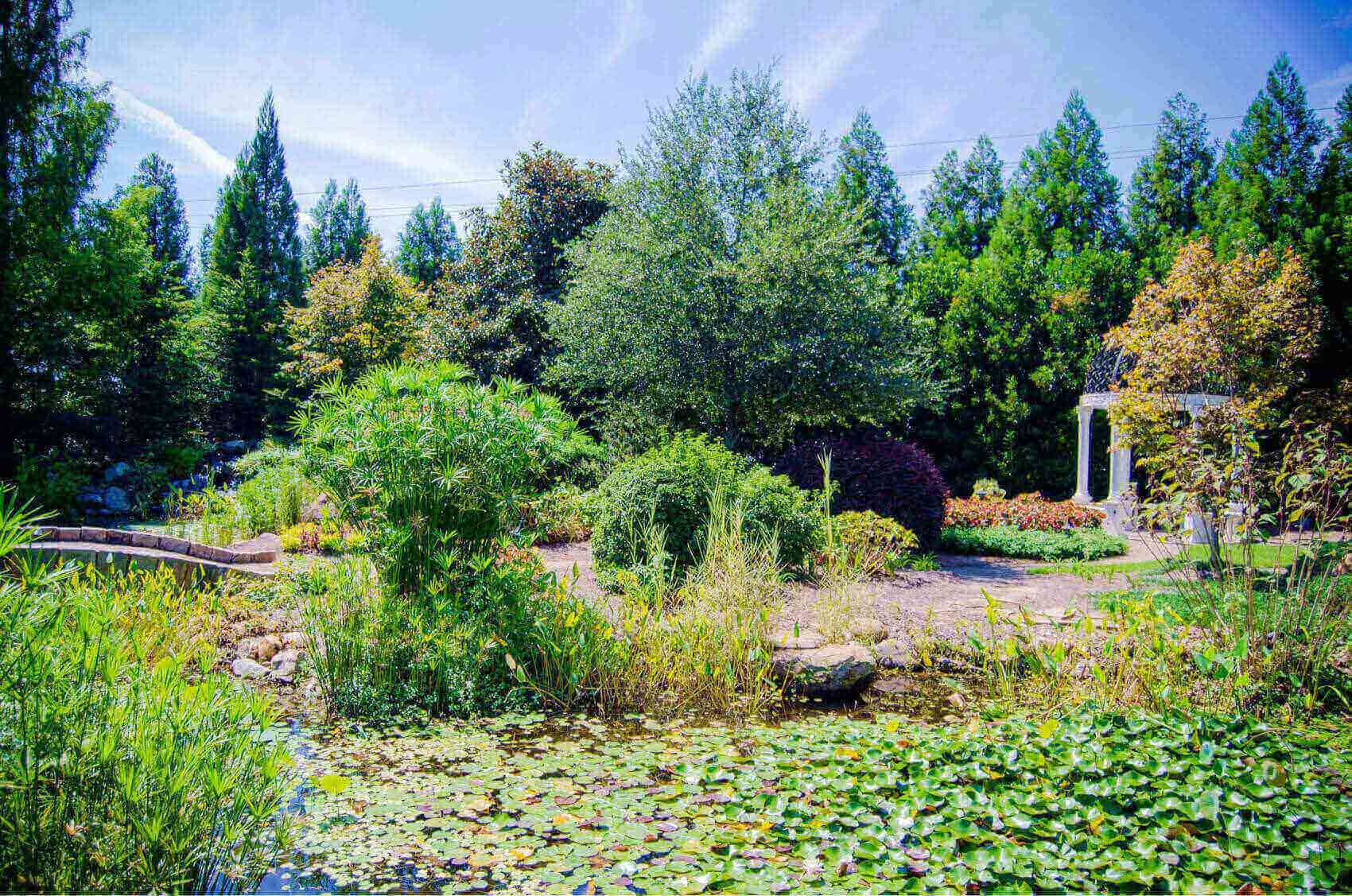 The picturesque and charming garden gives off an old-world feel. This is one of the Triangle's hidden treasures for brides seeking elegance. The garden features a stone and wrought iron gazebo, waterfall, cobblestone walkways, and even a Koi pond.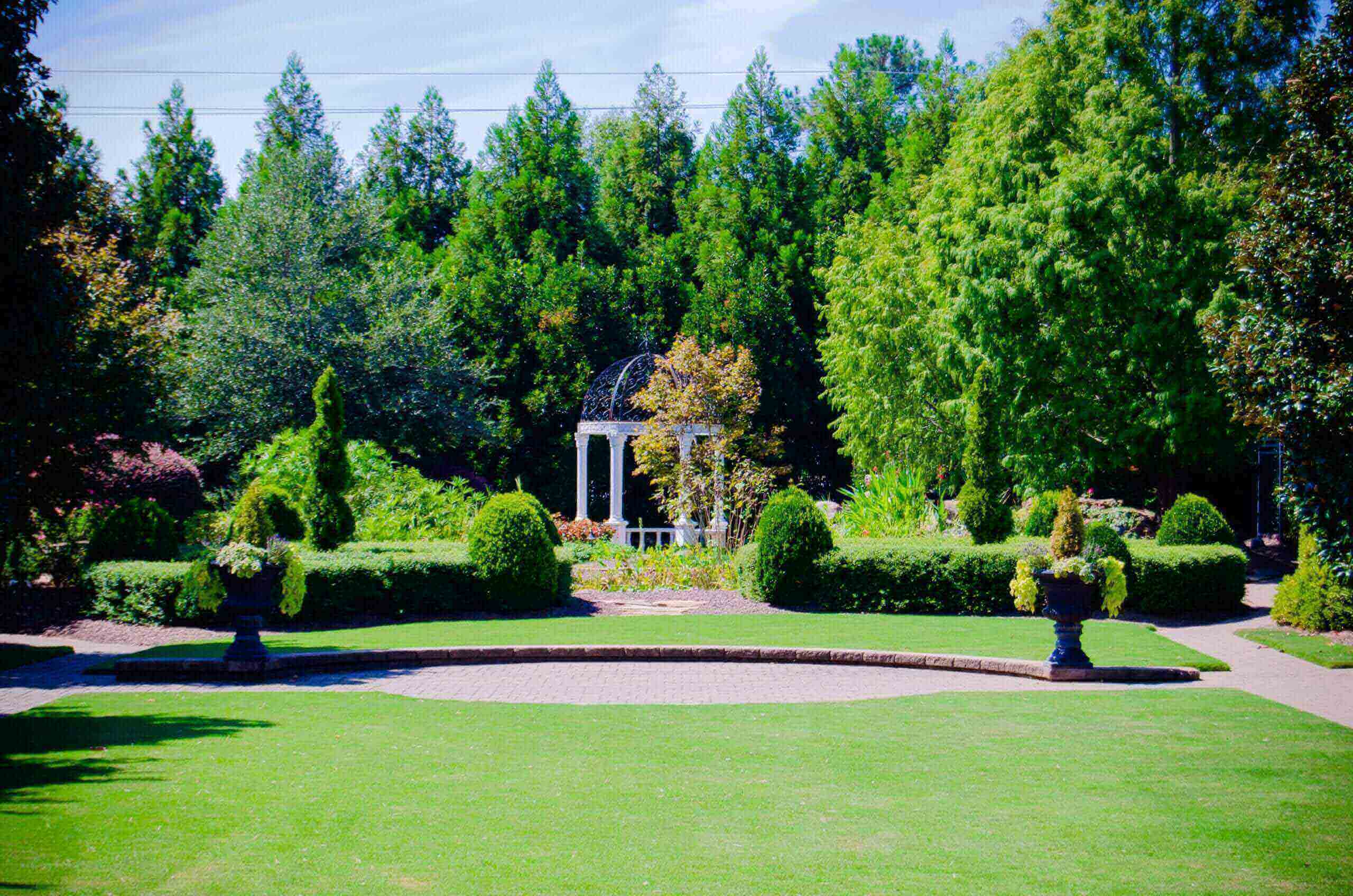 The outside area can also accommodate 400 guests for ceremony seating or 300 guests for reception seating all year round.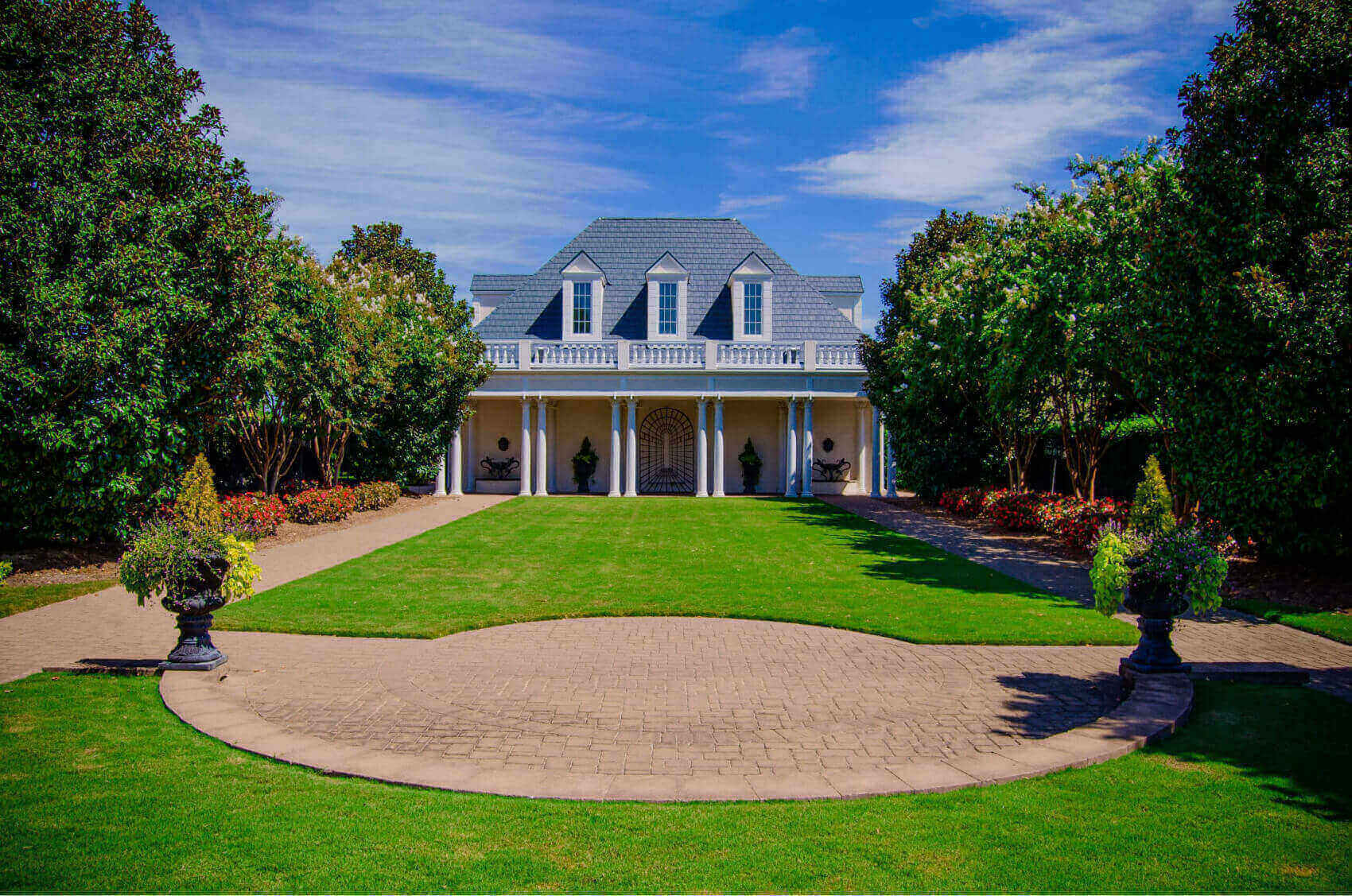 The columned building pictured above contains a spacious women's lounge, convenient men's and women's bathrooms and outdoor catering kitchen. Many convenient features for you and your guests.
Affordable Raleigh Corporate Catering for Your Next Event | Catering by Design
Catering by Design is the number one source for all of your Raleigh corporate catering and wedding catering needs. We make your fall or holiday event easy because we do all the work. Call us today and ask about our specials and delivery service. We've got the best menus for any of your catering needs. From university dinners, corporate events and awards banquets, to weddings, anniversary parties, and Halloween or Thanksgiving gatherings, Catering by Design will ensure your food and fun is top shelf quality. We've been serving up smiles to people all over North Carolina for decades. Please give us a call today to learn more about why we're the number one choice for Raleigh corporate catering services!