[metaslider id=7228]
Belk, Inc. is the nation's largest privately owned department store company in the United States. They operate more than 300 fashion department stores in 16 Southern states. In the past year, their sales totaled over 3.5 billion dollars. We had the extreme pleasure to cater their 4th Annual Belk Fashion Forward shopping event. This is the signature fundraiser for the Junior League of Raleigh, and the event was held at the Belk store inside Crabtree Valley Mall.
All the V.I.Ps had a great time at the event. The guests enjoyed two fashion shows that featured a few of the latest spring Belk fashions, registered for awesome door prizes, and they even had a chance to do a little shopping with a discount from Belk on their purchases made during the event. Everyone was also treated to heavy hors d'oeuvres and desserts, wine, specialty drinks and other beverages that were provided by Catering By Design. There was even a signature drink for all the guests to enjoy, thanks to Sugarland Breweries. The Pineapple Upside Down Cake was made using Sugarland's Butterscotch Gold Moonshine, Pineapple Juice and garnished with yummy yellow pound cake.
Overall, the Fashion Forward Fundraiser event offered a night of catching up with friends, discovering new spring fashion trends, and supporting the Junior League of Raleigh. We peppered this post with our favorite pictures, to see the rest of them please click here to visit our Pinterest gallery.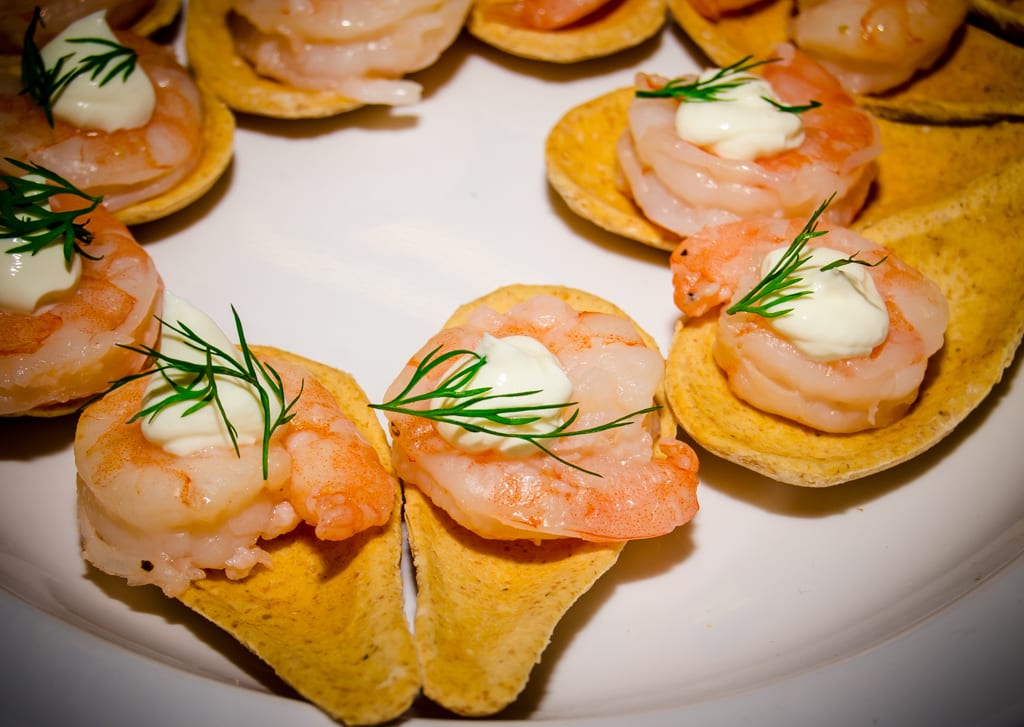 It was all hands on deck tonight to make sure all the the heavy hors d'oeuvres were perfectly prepared for the 500 V.I.Ps in attendance. The apps were all butlered and we started off the guests with Butter Poached Shrimp with Dill and Crème Fraiche on an Edible Pretzel Spoon.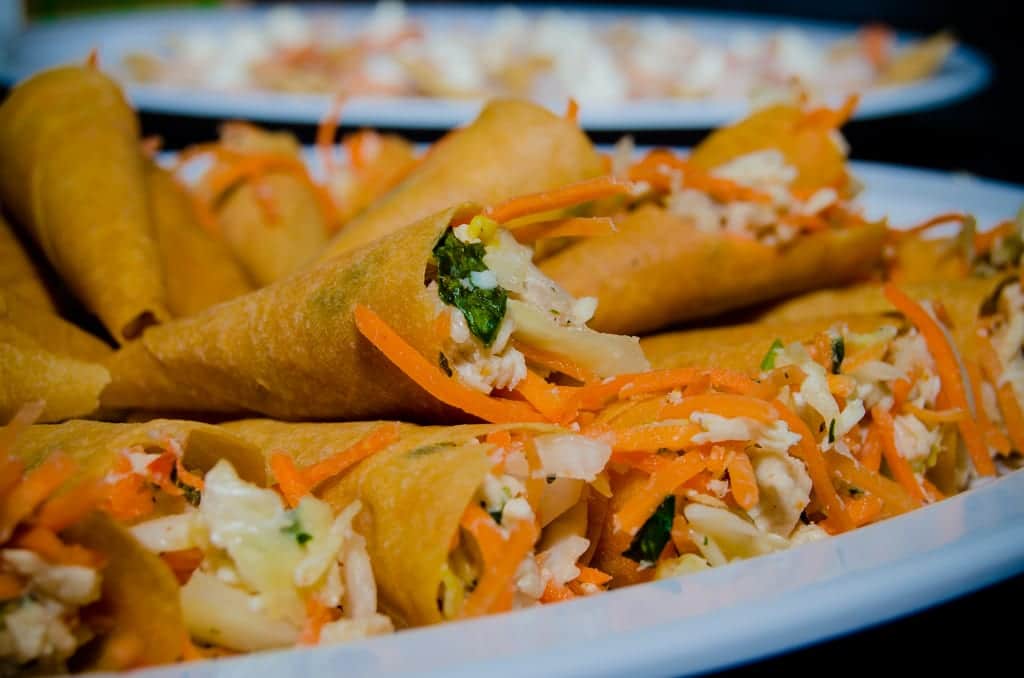 The Chicken Banh Mi with Pickled Vegetables was served in an Edible Spring Roll Cone. Other than the dessert, this was one of the guests' favorites.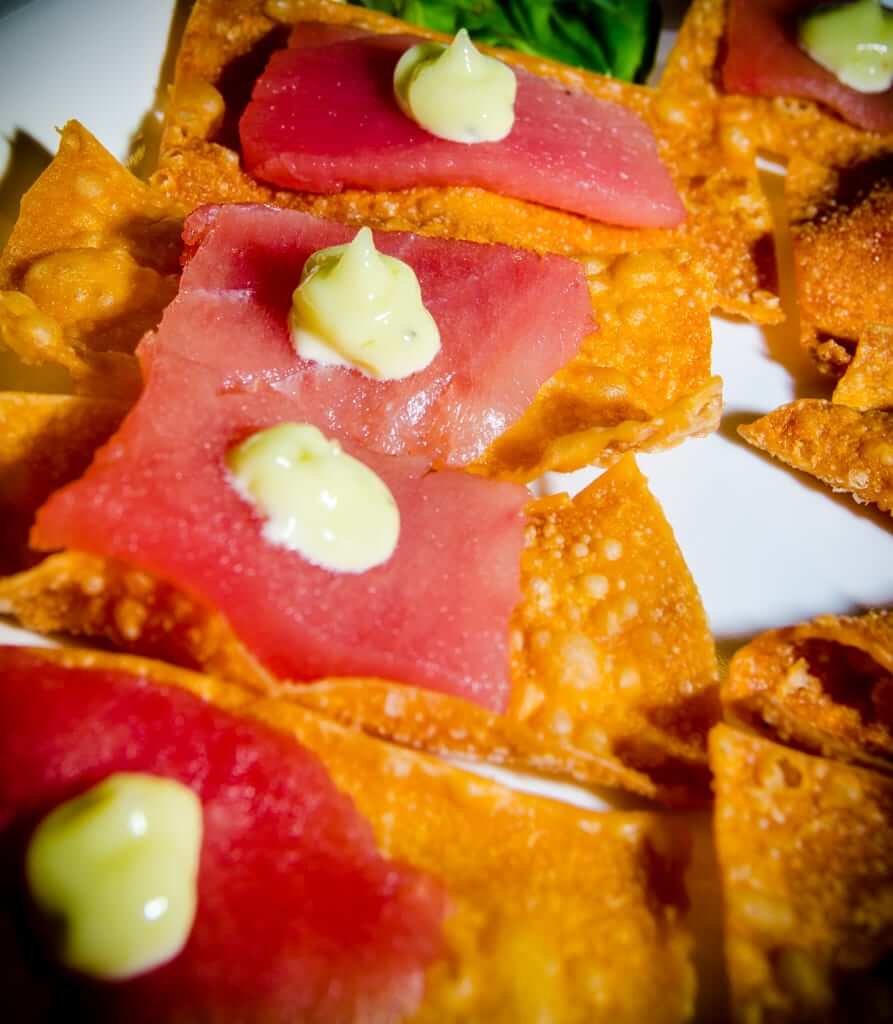 Everyone loved the Ahi Tuna on Won Ton Crisp with Spicy Wasabi Aioli.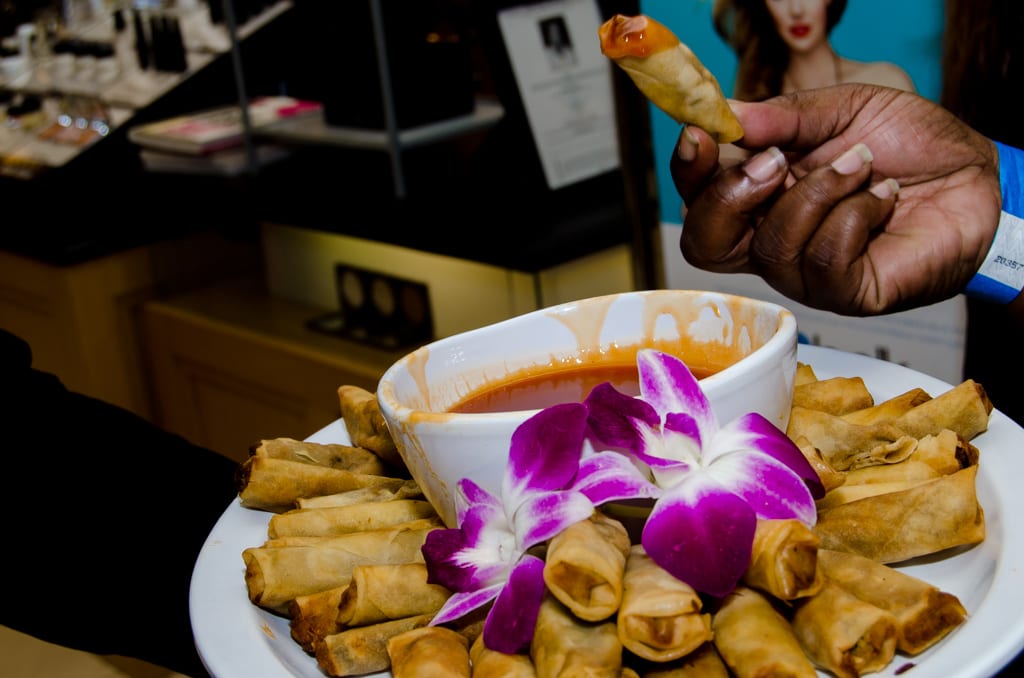 Featured here is our Peking Duck Spring Roll with Spicy Orange Dipping Sauce. Not pictured from tonight's menu are our Thai Red Curry Beef Skewers. You'll be able to see this item on our Pinterest page.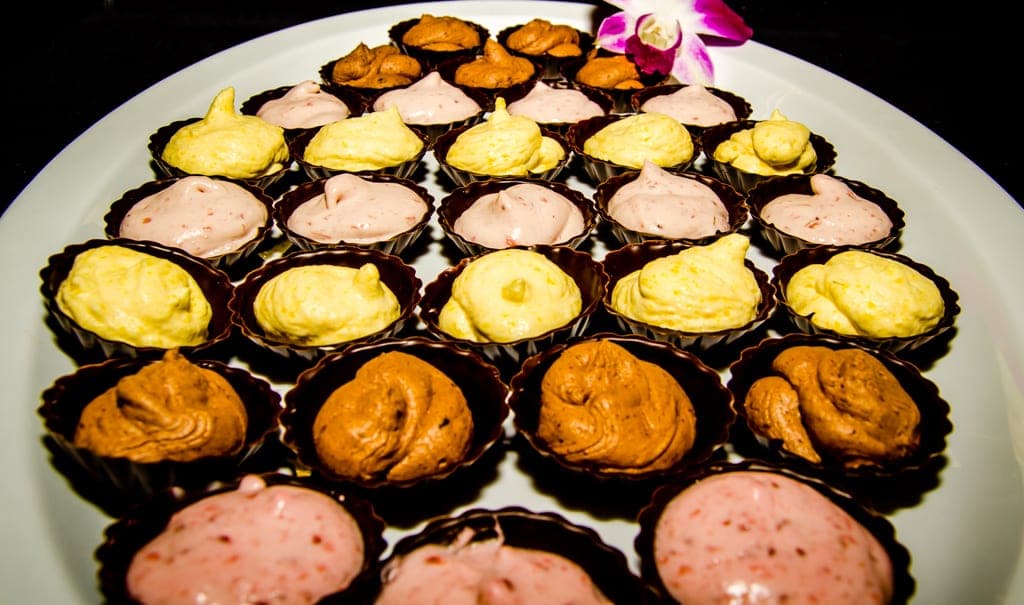 For dessert, the guests enjoyed the different varieties of Strawberry, Raspberry and Chocolate-Mango Mousse that were served in little Edible Chocolate Cups.
Special Event Catering Raleigh NC
Catering By Design is one of the best special event catering Raleigh NC companies. We're the Triangle area's experts for fun, food, and fantastic flavors. Please call us today for all of your special event catering needs. We can also help you with everything from picking out the perfect event location, to providing you with table linens, or full bar service. We've been one of the top caterers in North Carolina for years, so call us today and ask us about our special event catering specials.