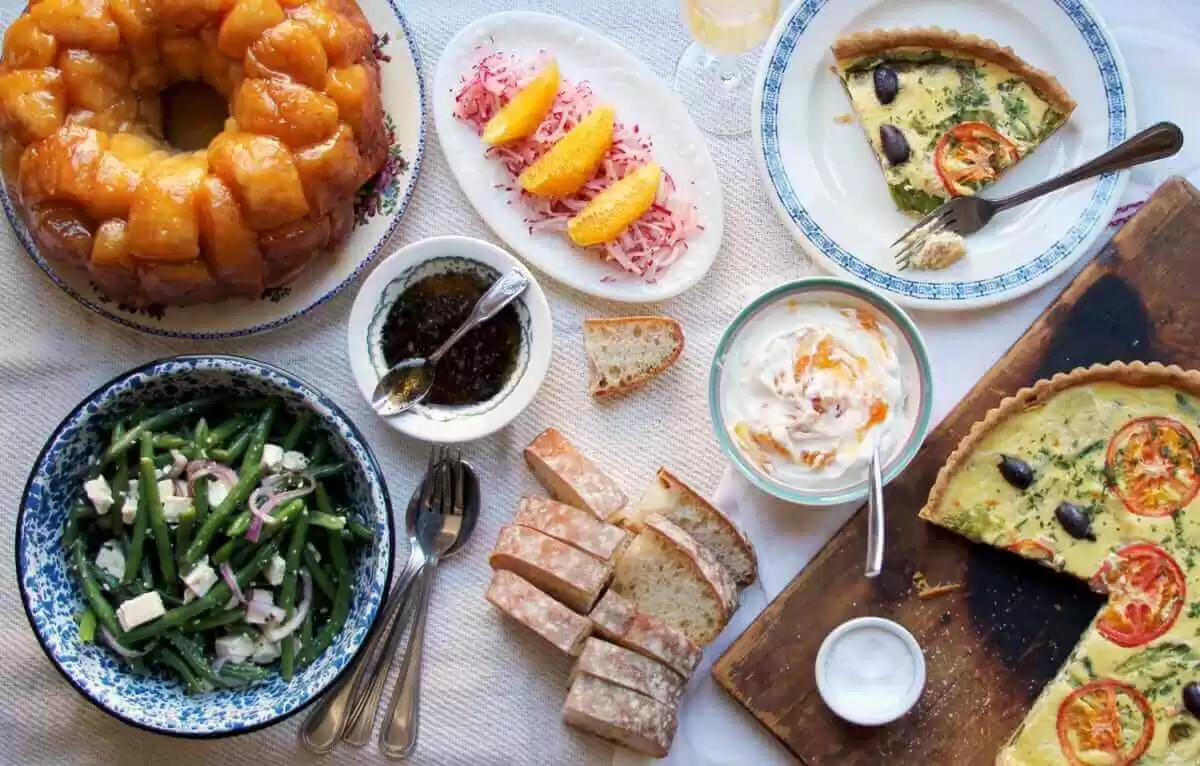 We know you want to have a holiday party this year but maybe you're struggling to figure out all of the details. Your budget might not allow for an extravagant party at the biggest venue in town and you've had so many boxed lunches that you cannot fathom having another one … especially for a holiday party. You might even be saying to yourself, "breakfast is just too early, the boss will never go for that." What about having a brunch holiday party? It can be cheaper than having a large dinner party and something less traditional than a boring lunch party. Let our Raleigh holiday catering staff help you plan the best brunch party your coworkers have ever seen. We guarantee everyone, including the boss, will be singing your praises for doing such a great job by choosing Catering By Design to help.
Brunch menus are pretty trendy across the United States. They are really growing in popularity for personal meals and menus, more restaurants are offering brunch, and we are getting more Raleigh holiday catering requests for brunch as well. Brunch makes for the perfect holiday party. Forget about the traditional cocktail party that you see at most corporate holiday parties, and this is not your regular continental breakfast either. In terms of having a meal with options, with brunch you can kind of have the best of both worlds by including breakfast, lunch, and even some dinner items.
If you're going to go at this solo, remember that almost everyone loves breakfast. Make sure your brunch menu incorporates eggs, bacon, some sort of home fries or hash browns, pancakes, waffles, or French toast. Also mix in different types of salads with creative toppings, fresh fruit, and yogurt.
Brunch casseroles like quiches, frittatas and stratas can be a great way to serve something savory and filling. This can also be a meat, or a vegetarian option. Speaking of the starch, how about having a hash brown or home fries interactive bar? You can have toppings such as onions, mushrooms, different types of cheese, and even diced up breakfast meats like bacon bits to really jazz it up.
For dessert and beverages, this is really where you save a ton of money. Since this is brunch, beverages should consist of great coffees and flavored teas. Some fruit juices or punch are also acceptable. Also consider having soda available as well. These are all less expensive than alcohol. Depending on your preference, you can have a dry brunch or offer such favorites likes Mimosas, Bellinis and Bloody Marys. For dessert, offer different types of sweet and savory muffins and cakes. Coffee cake, cinnamon buns and sweet rolls are all good choices. These are great for takeaways and you do not have to worry about a lot of food waste by going this route.
Top Rated Raleigh Holiday Catering
Catering By Design has been offering the best in Raleigh holiday catering menus for decades. We've been around a long time and we know what it takes to make you happy. Let us do all the work this year and have a holiday party that everyone will remember as excellent. Call us and ask about our corporate Lunch and Learn program. You'll be able to get to know us, and our food, on a personal level.