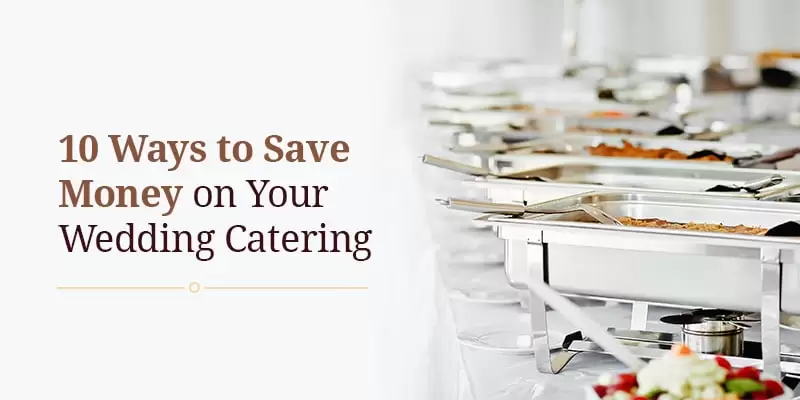 While food is one of the key parts of your wedding day, there are a lot of other wedding fees to consider. With these other expenses to factor into your budget, you may want to cut back on catering costs as much as possible. But that doesn't have to mean sacrificing quality.
If you're wondering how to save money on wedding food, we've created a list of 10 methods to help you out!
Why Is Food Important for a Wedding?
Like music, the venue and decor, food helps set the tone for your big day. You'll want to plan a menu and presentation that provides an enjoyable dining experience for guests, all while staying within your wedding budget. Serving food lets you gather with your guests longer, extending the celebration and acting as a way to thank your friends and family for being with you on your big day.
For these reasons, it's important to choose the right caterer — one who is willing to accommodate your budget and help create your ideal menu.
10 Tips for Saving on Wedding Food Catering
Below are 10 tips to help you save money on wedding catering:
1. Choose a Venue With Outside Catering
Many venues are flexible when it comes to catering, while others only allow their own caterer to serve food at weddings and events. If you haven't selected your venue yet, try choosing one that allows outside catering. This provides the opportunity to research other caterers and find one that fits your budget. Plus, you won't be restricted to the venue's menu options.
2. Cut Down Your Guest List
While it's likely not an ideal solution for those planning a large ceremony, the reality is that trimming down your guest list is one of the easiest ways to save on wedding catering. The more mouths you'll have to feed, the more it's going to cost.
If you're willing to make some adjustments to your invite list, this makes a significant difference in your catering bill. Consider limiting your guest count to 50, or only invite select close relatives and friends. As a compromise, you can make a B list with guests you'd like to have at your wedding but don't have the budget space for. If anyone on your A list can't make it, you can extend the invite to other loved ones.
3. Opt for a Buffet
While plated dinners can be a classy choice for weddings, you may want to reconsider this type of service if you're trying to reduce catering fees.
Choosing an affordable buffet service is an excellent way to save money on both food and service costs. Additionally, guests can choose exactly what goes on their plates and how much food they'd like.
4. Serve Seasonal Foods
When a specific food is out of season, it costs more to transport it from wherever it's grown to your location. For this reason, choosing in-season dishes for your wedding menu can keep catering costs low. As a bonus, foods that are in season will probably taste better than foods that aren't.
When planning your wedding menu, speak with your caterer to figure out what foods are in season as well as what their most affordable options are.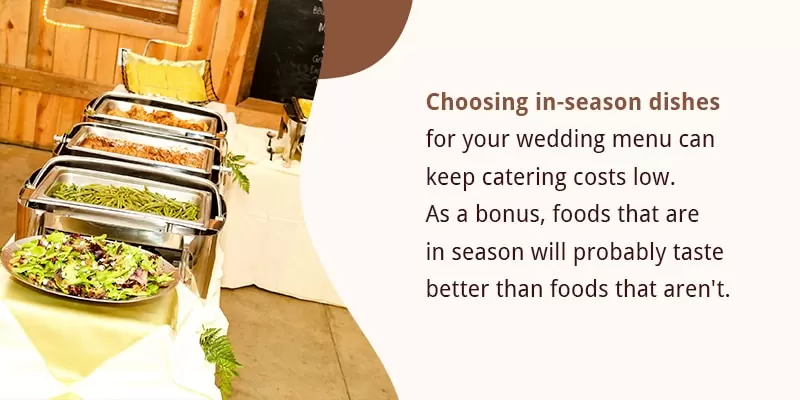 5. Use Disposable Dinnerware
Besides food, there are other contributing factors to catering expenses. This includes napkins, glasses, plates and silverware. Elegant linen napkins and fine china may be a must for some couples, but if you're looking for more budget-friendly catering options, consider using disposable dinnerware instead. Or, you could opt for real china for dinner service only while using disposable plates for appetizers and cake.
It could also help to partner with a caterer who includes linen and china fees in the overall cost so you don't need to budget for these items separately.
6. Limit Your Bar
If a fully stocked open bar and wide cocktail selection aren't high priorities for you and your partner, limiting your alcohol selection is a great way to reduce catering costs. Instead of equipping your bar with every liquor and mixer imaginable, sticking to wine and beer only can be a great money saver. If you'd like a little more variety, consider adding one or two signature drinks to your beverage menu.
Whether you'd like to keep it simple with beer and wine or add some signature cocktails to the mix, you can easily seek out bartending services that will accommodate your needs and budget.
7. Go Easy on Appetizers
You can save some extra money by limiting your hors d'oeuvres. It's a good idea to give your guests something to nibble on before dinner, but there's no need to go overboard with the appetizers. For instance, you might consider sticking to a maximum of two or three hors d'oeuvres during cocktail hour.
Avoiding passed appetizers — appetizers handed out by servers — and having guests grab these themselves is a good way to cut down service fees.
8. Choose Affordable Entrees
Your choice of entree will largely determine your overall catering bill. For example, filet mignon, lobster and oysters are typically more expensive options, while chicken and salmon tend to be friendlier on the budget while still being delicious. Swapping pricey meat cuts — like lamb chop, filet or prime rib — for cost-effective nontraditional cuts can also be a great money saver.
9. Keep Your Wedding Cake Simple
Opting for a less extravagant wedding cake is another great way to reduce food costs. For example, you can:
Choose a naked cake with minimal decoration.
Order a smaller cake.
Serve half slices instead of full ones.
Choose buttercream instead of fondant icing.
Alternatively, you can forego the expense of a cake altogether and choose a more budget-friendly option instead, like a candy bar or a limited dessert table.
10. Discuss Your Budget With Your Caterer
Be upfront with your caterer about your budget and clarify how much you can comfortably spend. A reliable caterer will be understanding of your budget and work with you to accommodate your financial needs as much as possible.
If you haven't sorted out how much you'll spend on food, a catering budget worksheet can give you a better idea to communicate with your caterer.
Why Hire a Wedding Catering Company?
While balancing your budget, you may wonder why you should partner with a caterer for your big day. Here are some reasons to hire a catering company for your wedding:
They will reduce your stress: Supplying your own food for a wedding — or any event for that matter — is a real hassle, especially with so many other details to plan. By outsourcing this responsibility to a wedding catering company, you can focus on other wedding-related tasks and save yourself unnecessary stress.
They supply quality foods and beverages: A wedding catering company will create a quality menu for your big day. With impeccable skill and attention to detail devoted to each dish, a caterer provides outstanding foods and beverages that will wow your wedding guests.
They create a great presentation: A wedding caterer presents your food so it looks as good as it tastes. Keeping the theme and style of your wedding in mind, they'll create an elegant and picturesque table presentation you'll remember forever.
Contact Us for Your Wedding Catering Needs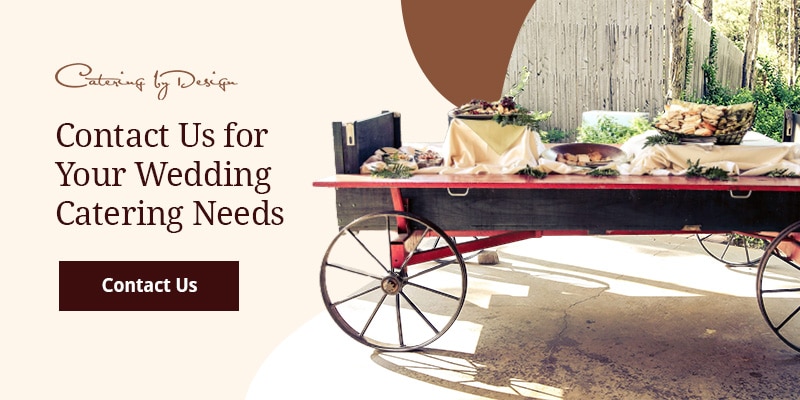 If you're looking for a wedding caterer to accommodate your budget, theme, dietary restrictions and other preferences in central North Carolina, Catering By Design is your solution. Let us help you plan an unforgettable wedding with delectable food and exceptional service. Browse our wedding catering options or contact us today!