[metaslider id=6722]
Every year brides from all across North Carolina descend upon the Jim Graham Building at the NC State Fairgrounds for The Wedding Show hosted by Forever Bridal. This awesome two-day event is the longest running, and most popular wedding show in the state. Hundreds of the best wedding experts from all over North Carolina attended the event to show off the hottest new wedding trends for 2015, and of course Catering By Design was there for both days. We were well established in booths 500-504 with our sister company, The Matthews House.
Each January, The Forever Bridal Wedding Show is filled with fun and all sorts of wedding related excitement. There were also fashion shows featuring the hottest trends in wedding gowns, tuxedos, and bridesmaid dresses along with live on-stage entertainment. This event is a must attend for brides getting married within the next year or so.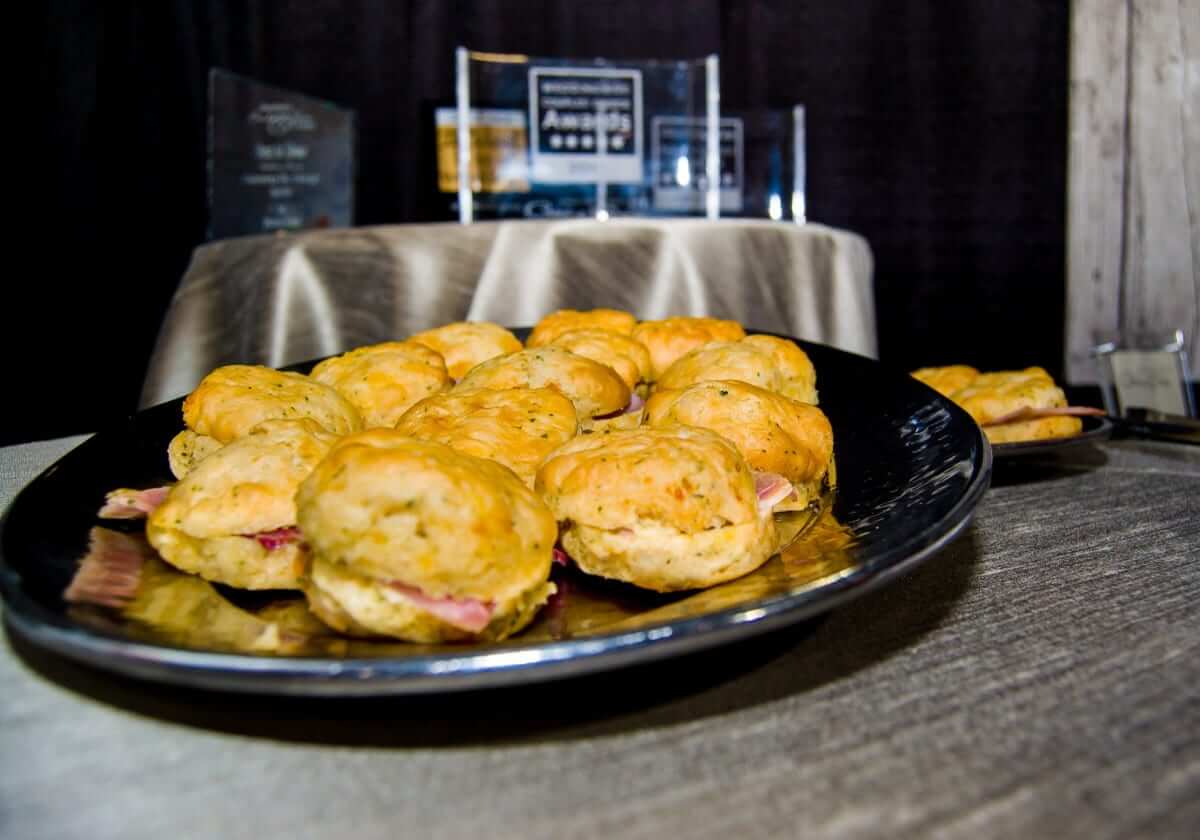 Several of the Triangle's premier bakeries and Raleigh wedding catering companies were in attendance this year. This included The Matthews House's very own in-house bakery, The Patisserie, and Catering By Design. Soon to be brides, and other show attendees loved being able to indulge in samples of the wedding cakes, and all of the delicious food we served up from our wedding menu.
For the wedding show, Catering By Design featured some our most ordered menu items that we served up to brides, and their guests, during 2014. Since the show got rolling early in the morning, we started off the show attendees with our famous Garlic and Cheddar Homemade Biscuits stuffed with Country Ham.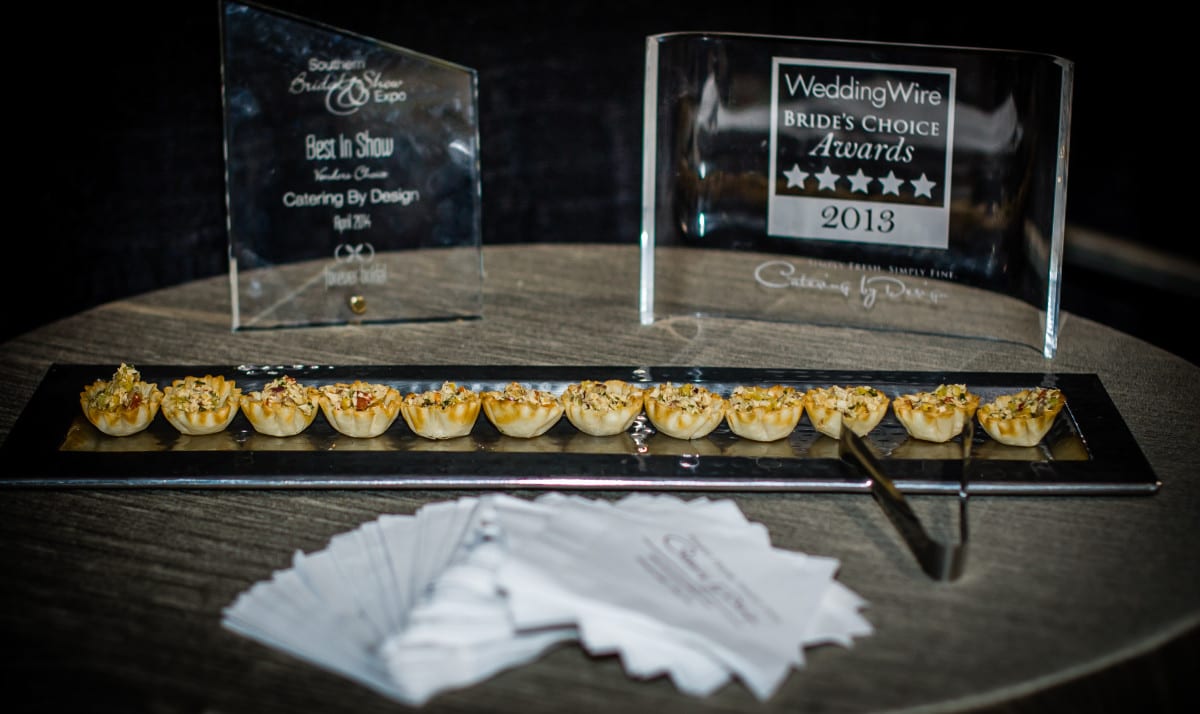 As the guests filled our booths and the time raced by, everyone visiting was raving about the Toasted Phyllo Cups stuffed with a Mango, Cilantro and Lime Chicken Salad (featured above, in front of our wedding catering awards). Below we have our famous Pesto Smothered Grilled Shrimp appetizer. We hope you enjoyed the wonderful pictures that we wanted to share from the Wedding Show. To see the entire gallery, you'll need to visit us on Pinterest.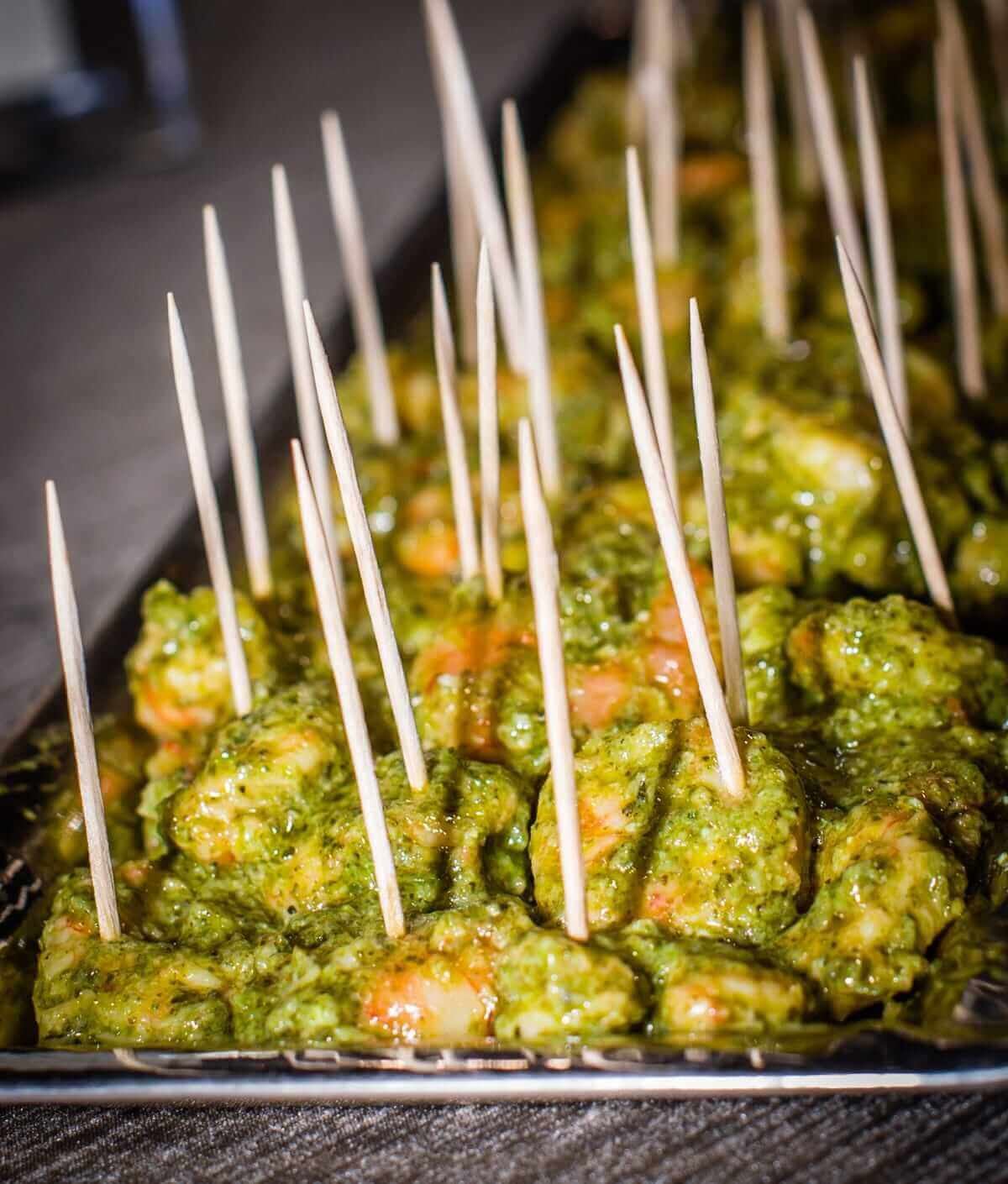 Top Notch Raleigh Wedding Catering
If you missed out on trying our wedding menu, don't fret. At Catering By Design, we offer free menu tastings to brides and their families. Other Raleigh wedding catering companies charge for this service but we let our food do all of our talking. Call us today to learn more about these amazing opportunities and go ahead and get signed up for our a free wedding menu tasting.