[metaslider id=5979]
The Power Plant Gallery, located in the heart of Durham's American Tobacco Campus offers brides a rustic wedding reception venue with all the modern conveniences. The Power Plant Gallery at The American Tobacco Campus is a joint initiative. Thanks to the Center for Documentary Studies and the MFA in Experimental and Documentary Arts, the Gallery acts as an off-site extension of the arts at Duke University. Its goal is to promote visual arts engagement with students, faculty and visitors from Durham, the Triangle, and beyond.
Your wedding guests will be amazed at how beautiful the lighting is as it shines down into the lobby. Much of the power plant's historic structure is also still intact. This includes the four-story furnace, mammoth coal-fired boilers and adjoining boiler room. This gives the venue a real historic, rustic and industrial vibe. With renovations completed in 2012, the Power Plant still bears the traces of its remarkable history, making this landmark a truly unique wedding space.
We had a great time providing the Durham wedding catering for a lovely couple at The Power Plant. We hope you like these highlights that we wanted to share. To see the entire gallery, please visit us on Pinterest.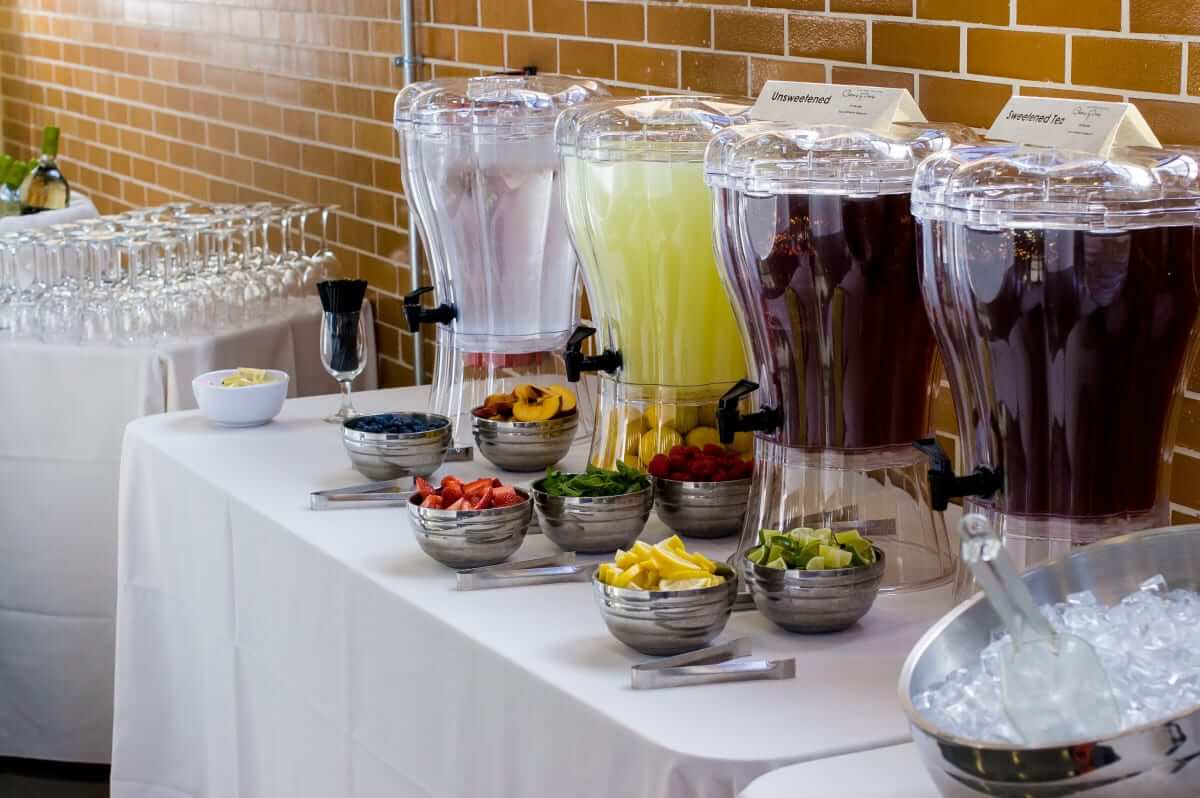 A great feature for any wedding with a country theme is to incorporate a Sweet Tea Bar. This beverage bar featured Water, Lemonade, Unsweetened and Sweet Tea served in Mason Jars. Guests could make their own with fresh fruits of strawberries, lemons, limes, raspberries, blueberries, peaches, and mint leaves.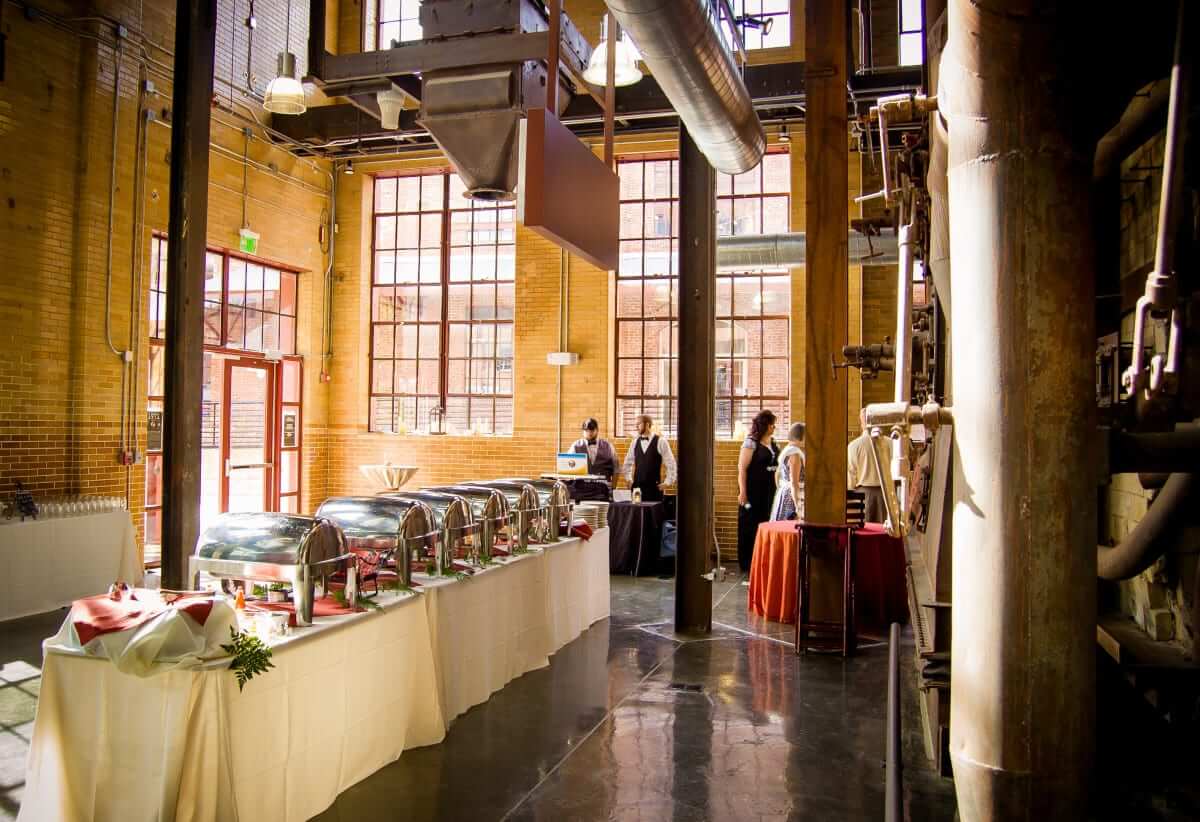 The Dinner Buffet featured a down south smorgasbord of must haves. The Pulled Pork Sliders were served with both Eastern and Western NC BBQ Sauces, a Tangy Tomato BBQ and Texas Pete on the side.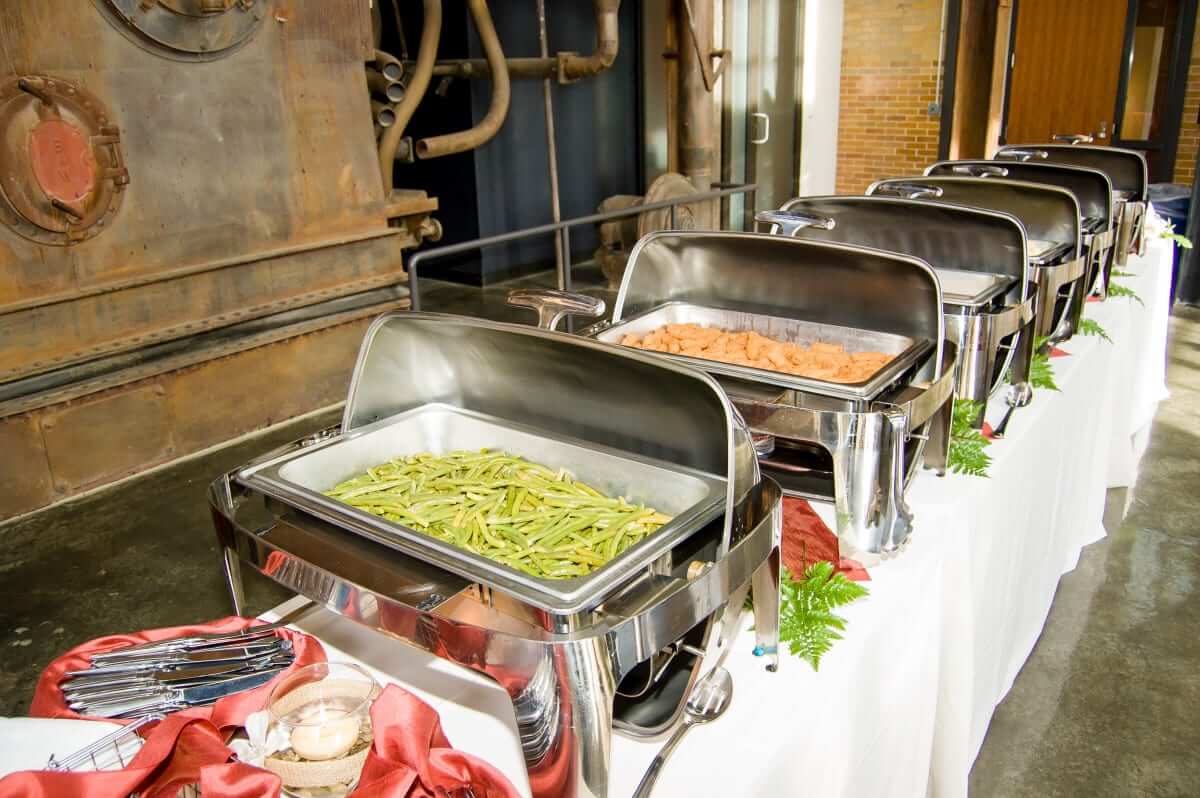 A beautiful smoked BBQ Beef Brisket was sliced to perfection and served with all the fixin's. There was Creamy Cole Slaw, Cheddar Mashed Potatoes, Baked Beans, and Southern Style Green Beans. The Hush Puppies were fried on site to keep them fresh and crispy.
For late night, our Butlers served heavy appetizers of Miniature Chicken and Waffles. These Small Hand Breaded Chicken Bites were also hand fried on site. We served these on Small Waffles that were drizzled with locally produced Honey. Guests also enjoyed another southern comfort food favorite – Miniature Pimento Cheese Sandwiches on White Bread.
Brides, when you're planning your big day we hope you'll consider Catering By Design. We offer FREE menu tastings whereas some of our competitors in the Triangle charge for this service. We're an award winning, full service Durham wedding catering company ready to serve your family and friends the meal of a lifetime. We can serve brides from the mountains to the coast. Our wedding menus are affordable and customizable. Call us today and ask about our specials.