[metaslider id=11443]
The Rigmor House is a wonderful venue for bringing two families together to celebrate a marriage. Located in Chapel Hill, this premier event space has a very rustic feel with its barn-like appearance. However, inside you'll find all the finest amenities that can make a wedding, reception, or rehearsal dinner fun and stress free.
The Rigmor House can also be rented for short-term retreats, parties, training sessions, and all of life's favorite and most cherished events. With both indoor and outdoor plans, The Rigmor House can also comfortably accommodate over 225 people.
Our clients, Rachel and Luke, recently tied the knot at the Rigmor House and Catering by Design was there. We were honored to be the newlyweds' Raleigh wedding catering company of choice. Since the ceremony and reception were so beautiful, we wanted to share a few of the highlights. We hope you enjoy the pictures. If you need help with catering for a Raleigh or Triangle event, contact Catering by Design today. We'd love to talk food with you!
Rachel and Luke's Wedding at the Rigmor House
Hors d' Oeuvres
Before dinner, the wedding guests enjoyed fresh Grilled Focaccia, Pita and Tuscan Breads. These were paired with Hummus, Tomato Basil, and Hot Spinach Artichoke Dips.
Rachel and Luke also decided to have sushi at their wedding. Thanks to Shaba Shabu for providing such an extensive spread!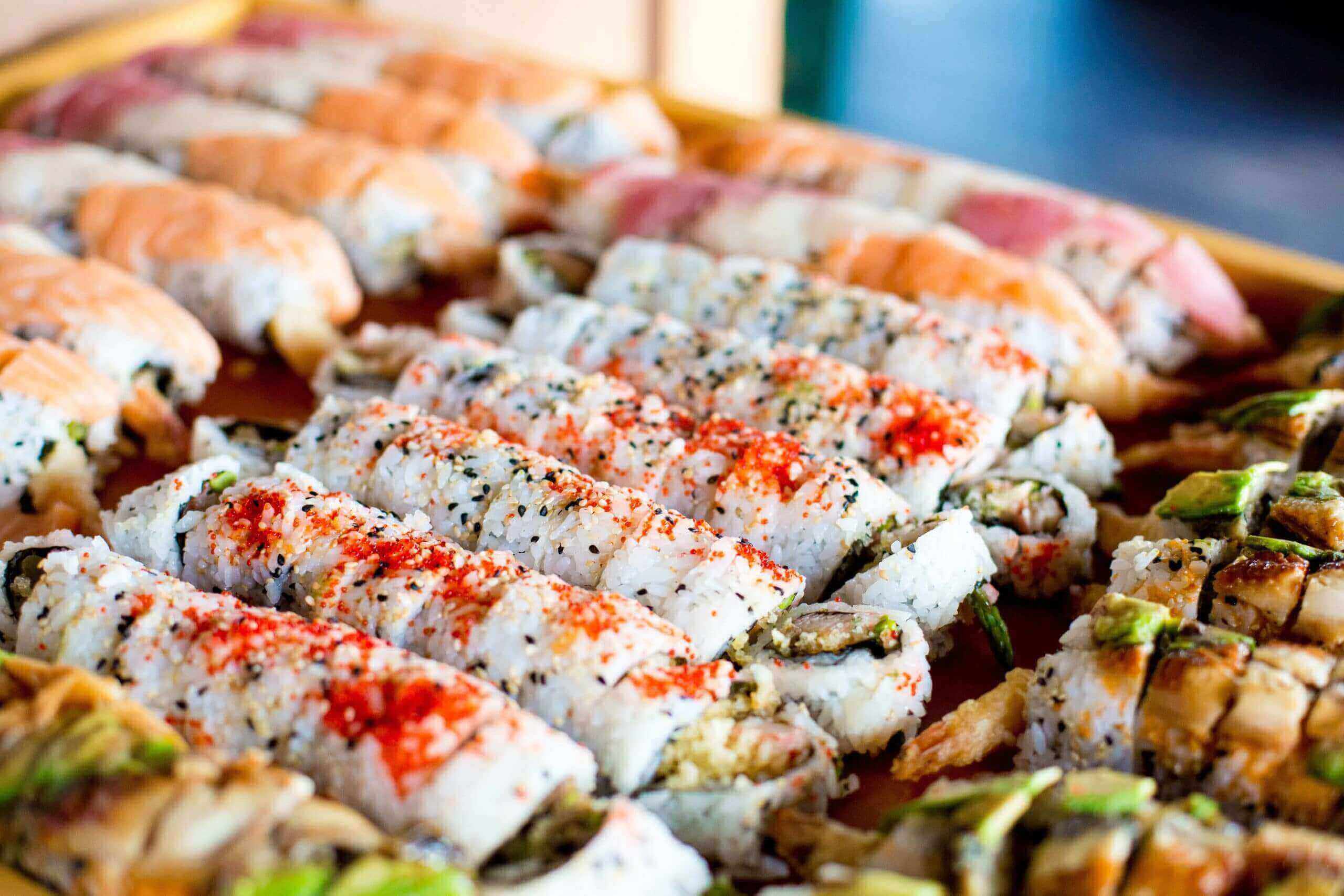 Dinner Buffet
The dinner buffet was stacked. We started off with a beautiful summer salad consisting of Crisp Romaine, Fresh Strawberries, Feta Cheese, and Toasted Walnuts, finished with Balsamic Basil Vinaigrette and Apple Champagne Vinaigrette dressings.
For the sides, we served Penne Pasta with Portobello Mushrooms and Sun Dried Tomatoes swimming in a Basil Cream Sauce, and a nice Medley of Sautéed Vegetables.
The main courses consisted of a Teriyaki Glazed Salmon dish and Bacon and Gouda Stuffed Chicken Breast topped with Pesto Cream, along with Buttered Dinner Rolls.
If you're searching for affordable wedding catering in Raleigh, Catering by Design can save you time and money.
Unbelievable Raleigh Wedding Catering
Catering by Design is Raleigh's top choice when it comes to catering weddings in the area. We have the most affordable menus and packages that can be customized to meet any of your dietary needs. Please click here to check out our Raleigh wedding packages. Brides, call us today and ask about our free tastings.
We're an award winning wedding caterer, and have been serving the families of North Carolina for decades. Be sure to ask us about our delivery options if you do not need full catering service. When only the best will do, call Catering by Design to find out why we're the top choice for Raleigh wedding catering services.