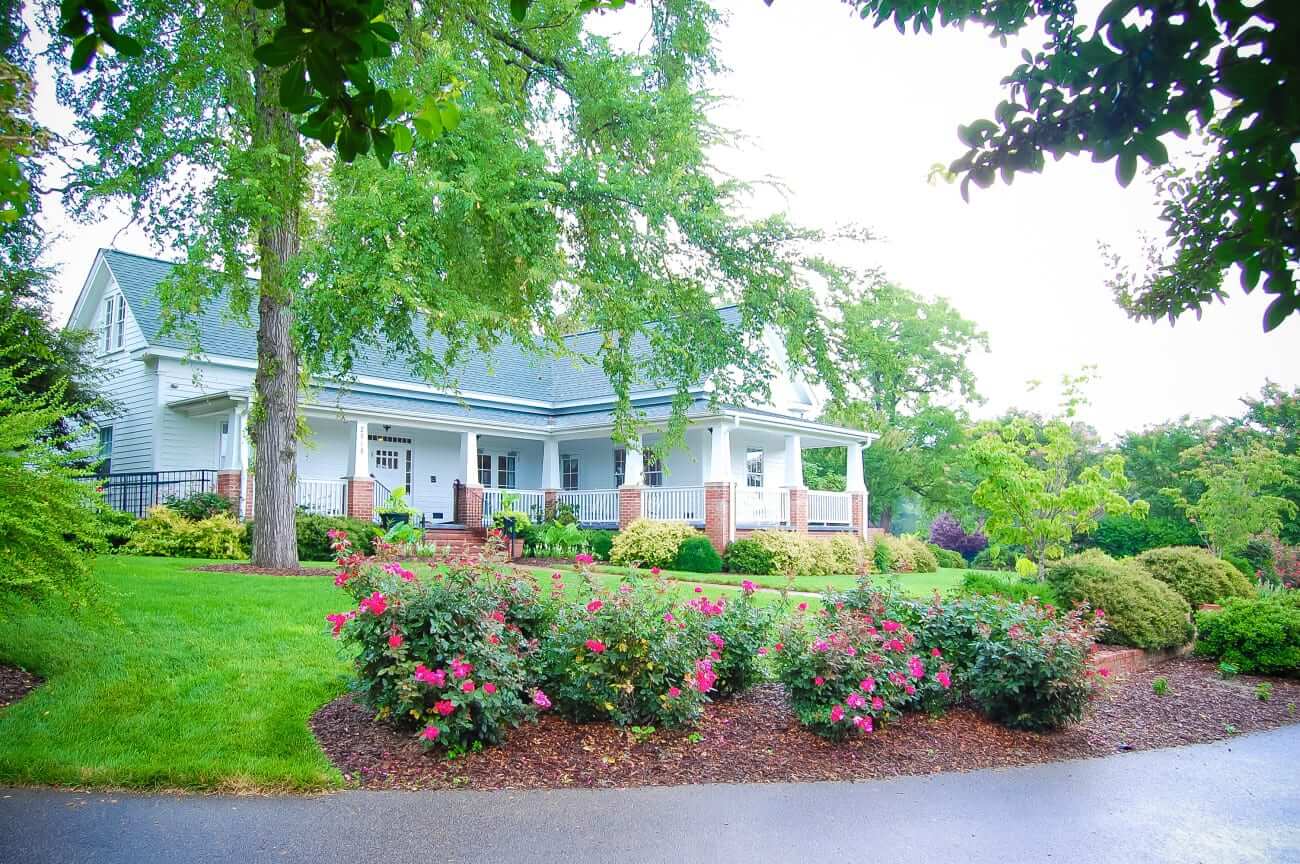 Garner Wedding Catering | Bryan House Highlights
Regularly voted as one of the best wedding venues in The Triangle, the Rand-Bryan House offers brides a wide variety of wedding reception options for small, intimate gatherings to large parties!
The Rand-Bryan House, a historic home nestled in the outskirts of Raleigh, was built in 1871 and restored to its original beauty using old-world craftsmanship and dazzling finishes. The house features beautifully restored interiors and porches surrounded by landscaped gardens and grounds. From wedding ceremonies and receptions to corporate and special events, The Rand-Bryan House offers a unique reception venue to fit any occasion.
The rich, warm interiors, hardwood floors and neutral decor give guests the wonderful opportunity to personalize the colors and decorations according to their unique tastes. You can further customize your event by choosing a caterer, florist, event planner, photographer and other vendors to suit your wants and budget.
The Rand-Bryan House is ideal for brides in the Raleigh, Wake County and Johnston County areas seeking a convenient location to host their most special day. Your wedding guests will arrive to find a picturesque setting of evergreens and rolling pastures. Catering by Design was honored with providing the Garner wedding catering for a lovely couple this past weekend! We're going to give you a taste of the highlights here but to view the entire wedding gallery, you'll need to visit us on Pinterest.

The hors d' oeuvres buffet started off with Imported & Domestic Cheeses, Assorted Crackers with a Fresh Fruit Garnish, Spanikopita and our signature Toasted Phyllo Cups with Chicken, Mango & Cilantro Salad (featured below).
The dinner buffet started out with the freshest Baby Greens with locally sourced Strawberries, Feta Cheese, Walnuts finished off in a Citrus Vinaigrette.
The star of the show was the incredible Stuffed Chicken Breast of Portobellos and Sun dried Tomatoes in a Creamy Vermont White Cheddar Sauce. The protein was paired with a delicious Penne Pasta dish that was tossed with Fresh Spinach and Red Peppers swimming in a Basil Cream Sauce, Rosemary Roasted Red Potatoes and a Sauteed Vegetable Medley.
For dessert, the guests indulged in an interactive Ice Cream Bar with Vanilla & Chocolate Ice Cream served with Cherries, Sprinkles, Chocolate Syrup, Caramel Syrup and Whipped Cream. Even the old folks were feeling like kids when it was all said and done.
For all your Garner wedding catering needs, please consider Catering by Design and our 30 years of experience in serving The Triangle. We're a wedding wire award winning cater that offers free tastings to brides. Call us today or just stop by the kitchen. See ya soon!